Finding low carb products that are sweet and satisfying to you, but aren't high carb, could be your best friend.
Today we're going to be going over five low carb products that I feel like everyone needs on their weight loss journey. I feel like a lot of the times when people start living a low carb lifestyle, they feel like they're giving up something. But the reality is, especially now, there are so many low carb alternatives to your favorite things. So you never have to feel like you're missing out. And that's not to say you can never have the real thing once in a while, of course, but the truth is the reason I love these low carb products is because one, it's obviously giving you the same satisfaction that a lot of their high carb counter products would have. But also a lot of the times they're more purposeful, meaning they have more protein or fat in it. They're more satiating. So there are so many benefits to them.
The reason that I'm sharing these with you is because I've worked with so many clients. I've literally worked with hundreds of women that are living the low carb lifestyle. And these products I find, make their journey easier. I wish I had them when I was losing weight. So I want to share them with you to show you that there are so many amazing products out there, by the way, none of these are sponsored. And none of these companies are paying me to say any of this stuff. I genuinely love these products and that's why I'm sharing them with you. If you follow me over on Instagram, you know I'm super transparent. I only talk about brands that I absolutely love and that I would recommend to my clients. So that's what I'm going to be sharing with you today.
Some links below may be affiliate links. This means if you click on the link I would make a small commission. This helps to support my blog!
Number 1 – Red Rose Teas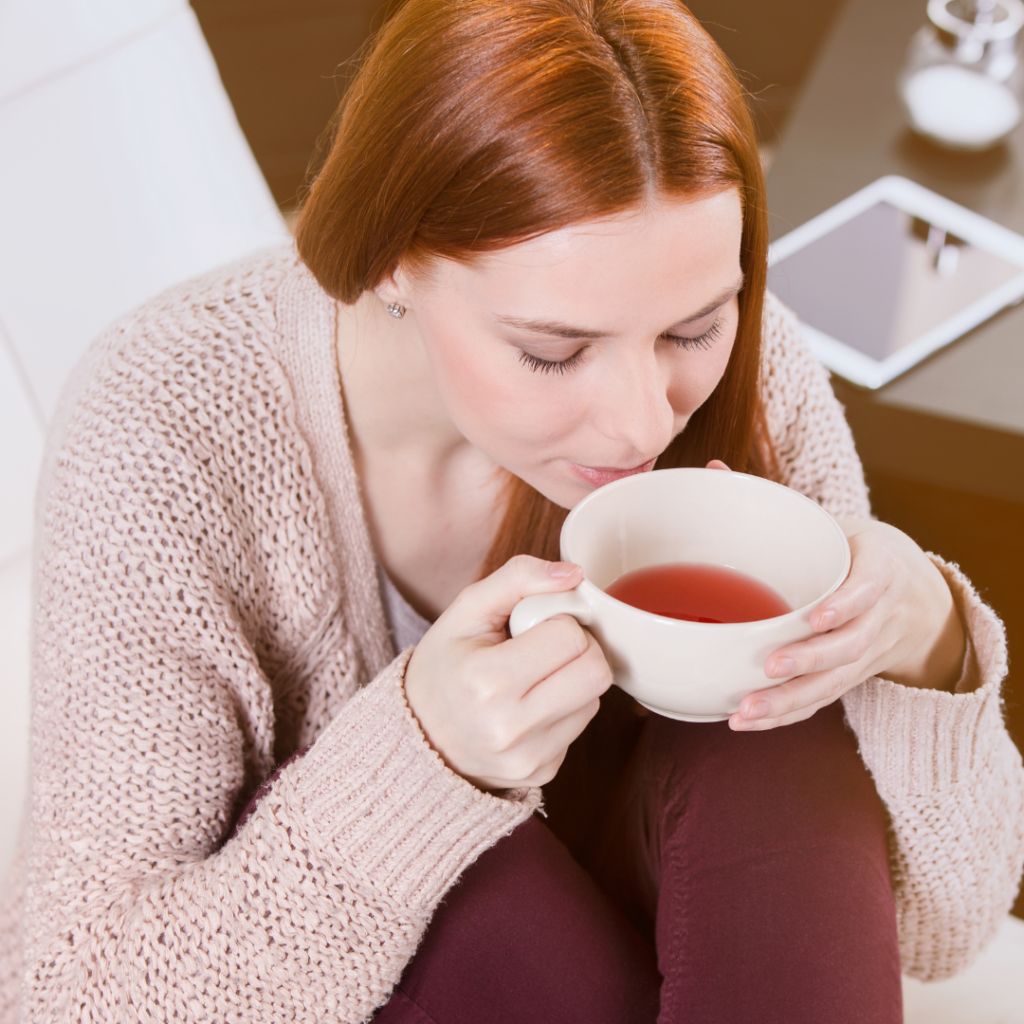 They're dessert teas. They have fun flavors like blueberry muffin, caramel apple, strawberry shortcake, lemon pie. They're so delicious. They are sweetened with Stevia. So if you have any issues with Stevia, then I wouldn't recommend this product, but for most people it's totally fine. Stevia comes from a plant that's been used for a very, very long time. I personally think it's a fine sweetener to use on your low carb weight loss journey. I don't think we should be overdoing the Stevia, but having it here and there is totally okay in my book. I found these literally just randomly looking at Stop & Shop in the tea section that was like, ooh the blueberry muffin one sounds fun. So I grabbed it and I was just blown away by how much it actually tastes like a blueberry muffin, how delicious it was.
So many of my clients swear by these. I love them. If you're someone that craves something sweet at night, this is such a great alternative because it really hits a spot, but it's just tea and it could totally help you on your weight loss journey. I definitely recommend you check out these products. Find Red Rose teas here.
Number 2 – Lily's Chocolate
If you've experimented with any kind of low carb baking, you've probably heard about them before. They are like the queens of chocolate. When it comes to low carb, they're delicious. They're sweetened with Stevia as well. And I just think they taste so good. Like I've never heard anyone say that they didn't like them. They have fun flavors like hazelnut milk chocolate, dark chocolate, and milk sea salt that to me tastes similar to like a Carmelo. Oh, they're so, so, so delicious. You will not be disappointed by them. They also have baking chips that you can use and peanut butter cups. They're just amazing. However, it's still chocolate. And since these are low in carbohydrates, they're mostly a fat. So I would still count it as a fat source. If you're someone that feels like they can't control themselves with this bar, what could be helpful to do is break it into rows, put it in a little container. And that way you're only grabbing one serving at a time. Anyway, if you haven't tried the Lily's chocolate, I definitely recommend it.
Number 3 – Bean Based Pastas
A huge lifesaver for any pasta lovers out there. There's so many different kinds. And I do feel there are better ones than others. My favorite brand personally taste-wise, texture-wise, and nutrition-facts-wise are Explore Cuisine.
The ones that I recommend from Explore Cuisine are edamame pasta or the black bean pasta. The only ingredients in these are just edamame or black beans and the nutrition facts are awesome. It's 20 grams of carbohydrates, 13 grams of fiber, and 24 grams of protein. So that means that there are only seven net carbs in this serving size, which is two ounces and 24 grams of protein. You can actually use this as a protein source. A lot of the other bean-based products out there are not this high in protein or this low in net carbohydrates.
So this one to me is my absolute favorite. You put whatever sauce you want on it and it takes the flavor of that and this one has a real feel of pasta, I personally think. I mean, obviously it's not pasta, but I'm going to just magically make low carb pasta that's exactly like the high carb one and have it be the same, but this is as similar as it gets.
Number 4 – Air Fryer
Now product number four is not a food product, but I think it's a necessity when it comes to anyone's low carb weight loss journey. I recently probably a month ago started using an Air Fryer and it's absolutely changed the game. I will say, it's not great for families unless you're getting a really big one. The one that I have is good for one to two people, even for lunch. When I put veggies in there, it makes a perfect serving for one for me. So it's really great in a pinch. If you just want to make an individual meal or maybe a meal for two, another way that I'll use it as I'll bake a carb like potatoes for Dale, especially when I'm not eating one for dinner.
So it's just a really quick and easy way for me to make his carb, but not like go out of my way, jumping hoops to make this carb for him. Not that making carbs is that big of a deal. I mean, there's plenty of things you could do, like microwave rice or put a potato in the oven. It just makes it a lot easier for me for whatever reason.
But the best of all is that it can get you to eat more veggies. Cause they're so delicious. And they're so quick to make you literally could just put it in there with maybe a little oil spray or oil and seasonings, let it get hot. And it cooks them so much quicker than the oven would. So especially for you busy babes, this product is going to help you on your weight loss journey, because it's going to help you make veggies and proteins a lot quicker than you may be able to on a stove or in an oven.
And besides the quickness, it's just less dependent on you, right? If you're making something on a stove, you kind of have to sit there, stir it, whatever the case may be. This, you just put it in. It's done.
Number 5 – Protein Powder
So I love eating whole real foods. And I do, despite this post, recommend that mostly to my clients, wherever you can have fun with this other stuff, that's totally fine. I think getting a good protein powder can help you boost the protein of your meals, which I see a lot of people lacking in, especially for breakfast. If you're someone that needs quick, easy breakfast ideas that are low carb, a protein powder can be an easy way to make a sweet breakfast, still high in protein, low carb, and that tastes delicious and that's easy for on the go.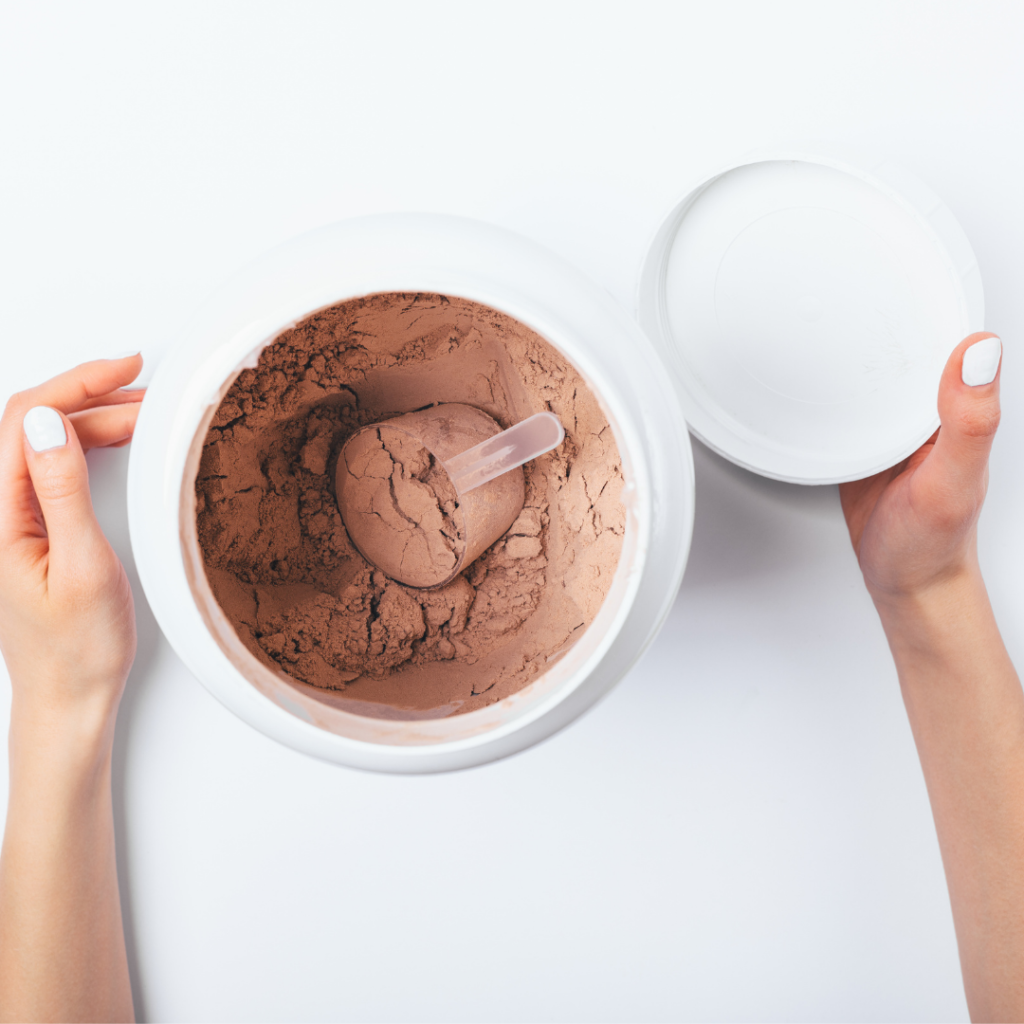 For example, you can easily mix it in a smoothie or you can easily put it in overnight oats or yogurt. There are so many things you can do with it. You can even bake with a lot of protein powder. So getting one that you really liked the flavor of, and then it has a simple ingredient list is what you want to look for. My personal favorites are Ancient Nutrition bone broth protein, Collagen Fuel by Primal Kitchen. And if you like a plant-based one, I like the Tone it Up protein powder, that's a great pea protein source. All these three protein powders have minimal ingredients. They're all low carbohydrates and high in protein. Cause you might look at actually some protein powders and the carbs are higher than the protein. And we're like, how did that even happen?
One thing you want to consider when it comes to going low carb, especially if you're someone that feels like you have a sweet tooth, carbohydrates are going to be where a lot of those sweets are coming from. So finding low carb products that are sweet and satisfying to you, but aren't high carb, they could be your best friend.
I hope that you try these products and you loved them. And if you do try them, I would absolutely love to know what you thought of them and if you enjoyed them.
If this is something that you want to learn more about – how to lose weight, living a low carb lifestyle, without counting calories or being hangry, I made a free workshop on exactly that. You get instant access to it if you click this link. It will bring you straight to the video and you can watch literally my step-by-step process that I teach my clients to lose weight, living a low carb lifestyle.