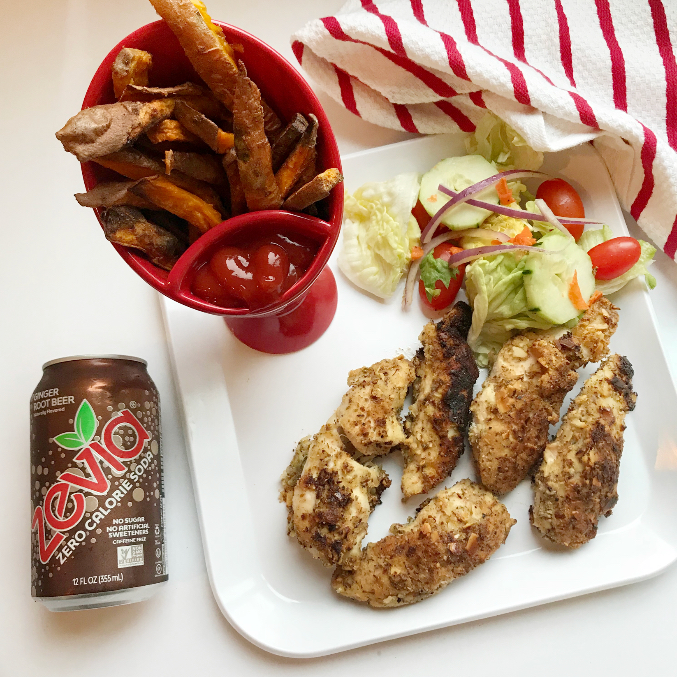 Bringing out the inner kid in me with these almond crusted chicken tenders and sweet potato fries! Let me tell you, this is the healthiest version of comfort food you can get. And it has me reminiscing of birthday parties at an arcade on a friday night (not really sure why that came to mind, but whatever XD). And of course this meal was paired with a salad, because balance!
If you are a soda junkie, or like to once in a while pop open a can to enjoy a fizzy beverage, I have a great alternative for you! Zevia is a soda substitute that can satisfy that craving for a soda without the sugar crash, additives, and preservatives. My dad use to drink soda way more often than I would like as the daughter of a dietitian. He actually made fun of me the first time he saw me drinking this. Ironically, now he is obsessed with these drinks and always has them on hand for when that soda craving hits (lol, oh how the tables turns.)
I love using this recipe for meal prep. I make a bunch of chicken for the sweet and throw some in salads, stir fries, or with sweet potato fries and some veggies like pictured here. Hope you enjoy this recipe!
Ingredients:
1 package of chicken breast tenders (about 1 pound)
1/2 cup almond flour
1/2 cup sliced raw almonds
1/2 tsp. salt
1/2 tsp. oregano
Any other seasonings to taste: I love using everything seasoning or everything but the bagel seasoning (both from Trader Joe's)
Avocado oil (can sub for any oil)
1 Egg
Directions:
Step 1: Coat a pan with thin a layer of avocado oil and heat on medium-high.
Step 2: Whisk egg in a bowl. In a separate bowl, gently crush sliced almonds and combine with almond flour and seasonings.
Step 3: Make sure pan is hot. Dip chicken tenders in egg mixture, then dip in almond mixture, and place on pan. Let chicken brown on each side ( about 3-5 minutes on each side).
Step 4: Place pan in the oven for about 20 minutes or until cooked through evenly. Enjoy =]