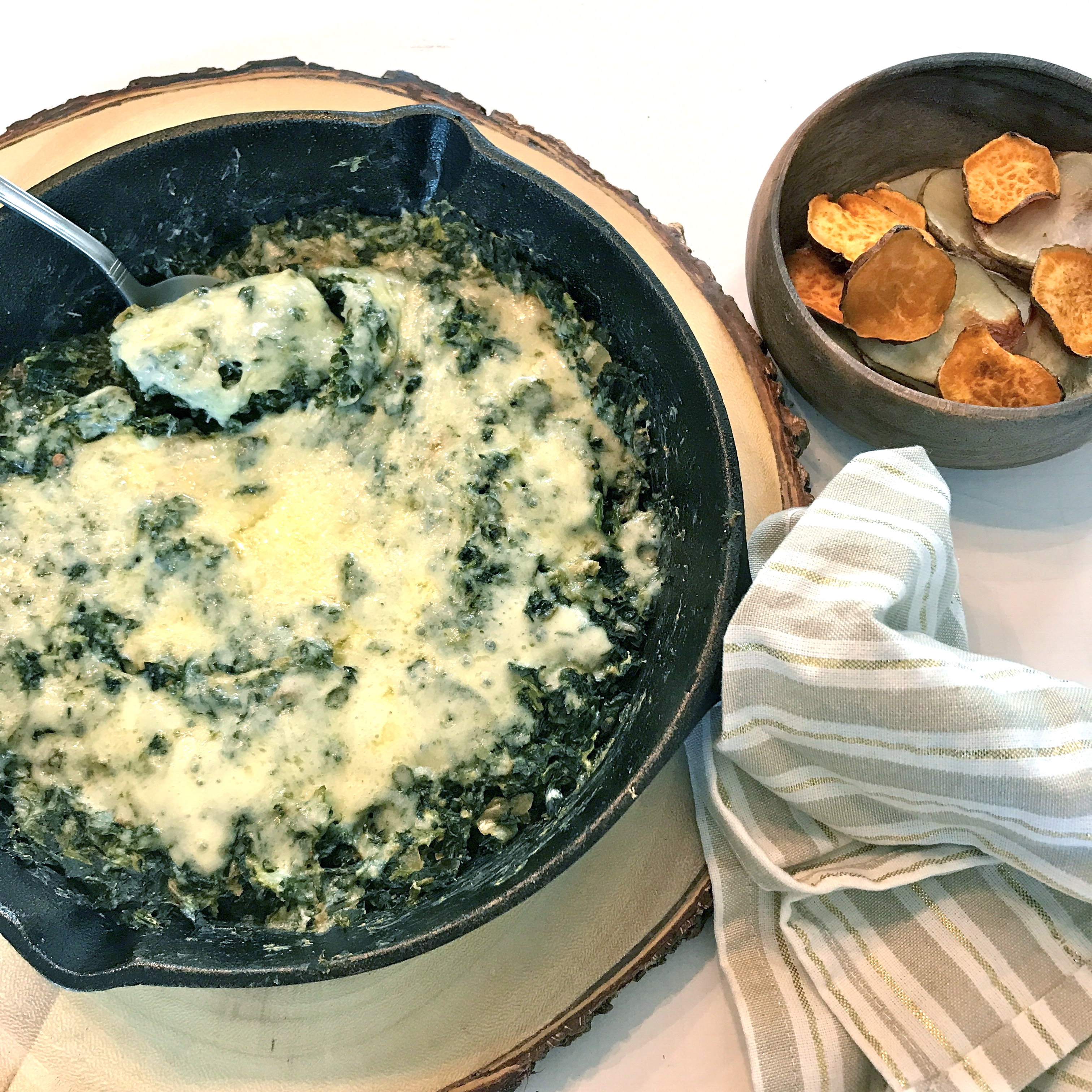 It's officially football season! I like watching sports games, I really do. But I would be lying if I said I enjoyed it more than the delicious snacks I prepare for them 🙂 And this spinach dip has to be my new favorite. I haven't met anyone that wasn't a fan of the dip so far!
When I think of game snacks… I think of chip and dip, right? So naturally I had to make a  delicious and healthy version to share with my family and friends for the games. This Spinach dip is seriously so easy and and quick to make. That way you can spend most of your time arguing with your brother or cheering for your favorite team. And I'm going to show you how you can make some chips to go with it too!
The one thing I love about this recipe is that it is not so dairy heavy. Nothing necessarily wrong with certain dairy products; however, a lot of the time people have an issue digesting it. As we age or the less we consume dairy, we actually decrease the enzyme to break it down in our gut. No wonder 1/2 the people in a room are lactose intolerant, right?!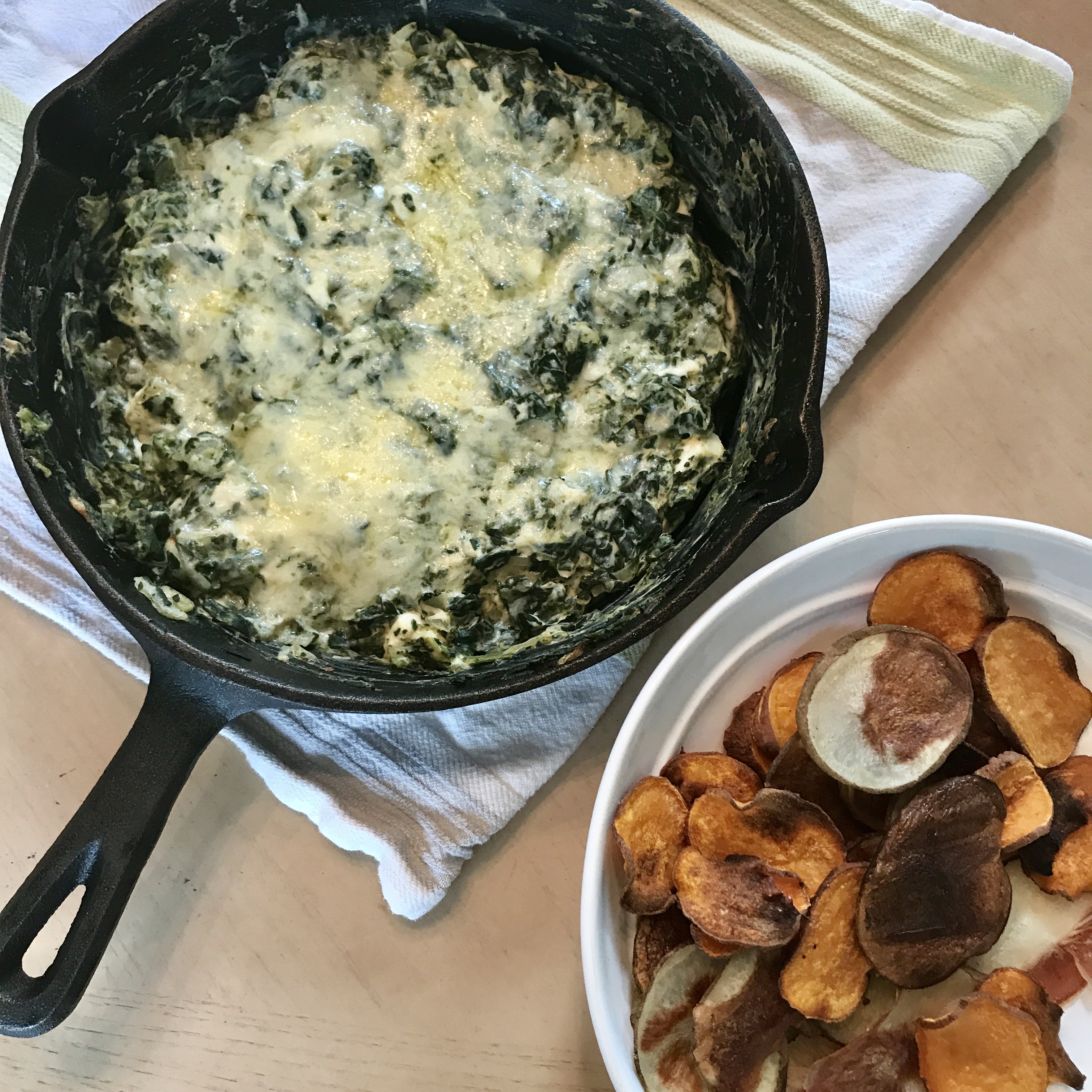 I personally don't completely avoid dairy, but I know my limit. Which is why I made this spinach dip with kite hill cream cheese spread that is made with almond milk! It is so delicious and creamy, you would never know it was mostly dairy free. And  if you want it to be completely dairy free, just don't add the cheese on top. Trust me, it's still as yummy.  You can even hide some leftovers, because if you don't there wont be ;), and put some on your eggs in the morning!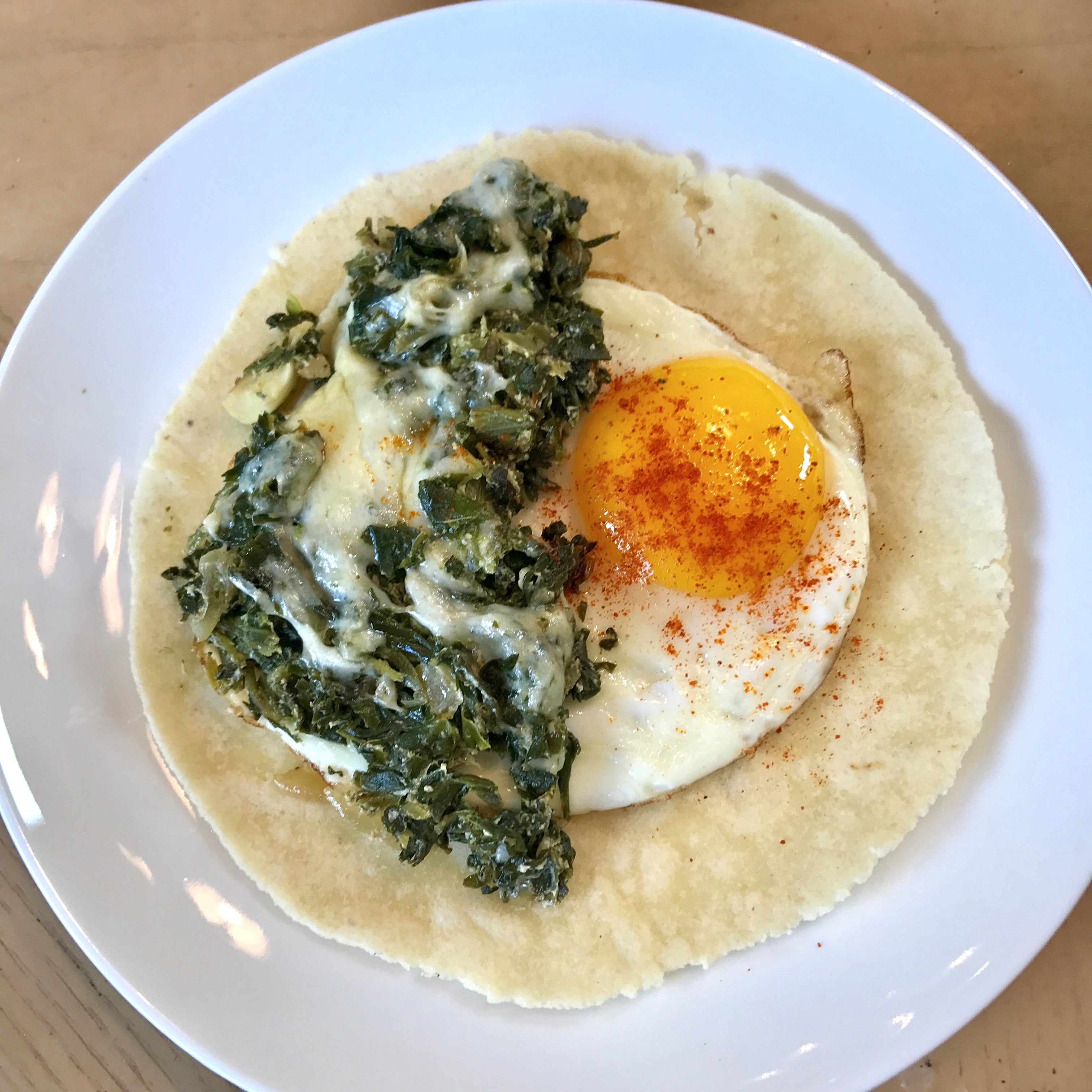 Hope you enjoy 🙂
Ingredients for Dip:
1- 6 oz bag frozen chopped spinach
White onion (1/2 large or 1 very small), minced
2 cloves garlic, minced
2 Tbsp. Olive oil or avocado oil
1 container of kite kill cream cheese (I use plain, but it comes out good with chieve too!)
Mozzarella or white cheddar cheese
Seasonings:
1/4 tsp. salt, pepper, paprika, garlic powder, onion powder
1/8 tsp. chili powder, cayenne, red pepper flakes (optional) – it is not spicy with these!
Ingredients for Chips:
1 Russet potato and/or sweet potato
Olive oil or avocado oil
Salt
Directions:
Step 1: Pre-heat oven to 425 degrees F.
Step 2: Sliced potato(s) into VERY thin slice. Like as thin as you can possibly make it.
Step 3: In a bowl pat sliced potato dry  (this is key!). Then toss potato chips, oil, and salt until chips are evenly coated. Place chips on a baking sheet and place in the oven for about 20 minutes, or until browned and crisp. Let sit for 5 minutes when removing from the oven to cool down.
Step 4: While potatoes are in the oven, heat the oil in a pan over medium heat for spinach dip. Once oil is hot, add minced garlic and onion to pan. Cook until onions start to brown a little.
Step 5: Add in chopped spinach to the pan. The spinach can be completely frozen out of the freezer or preferable deforested for a few hours prior. Cook spinach on medium heat until the spinach is warm. This time may vary depending on how frozen your spinach is but usually takes 5-6 minutes.
Step 6: Add spices and mix well. Then add the entire container of kite hill cream cheese into the pan and mix until evenly combined.
Step 7: Top the skillet with mozzarella cheese and stick in the oven at 425 degrees F for about 5-7 minutes or until the cheese melts.
Step 8: Enjoy 🙂