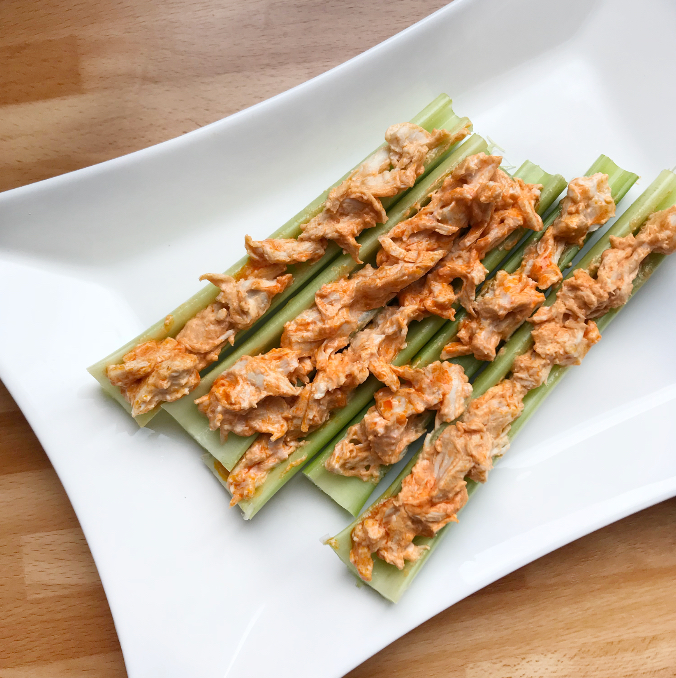 With the super bowl coming up, I think we're all looking for those delicious pick ons to eat while we "watch" the game. Am I right? But instead of the typical pigs in a blanket or chips, try these deliciously and incredibly easy buffalo chicken celery sticks for a healthier indulgence. I promise you they are sure to hit the spot and are loaded with protein, water volume, and nutrients to keep you satisfied and full of of energy for the big game! And buffalo + chicken for a sports game… what more could we possibly need? Ok..maybe a drink! (lol)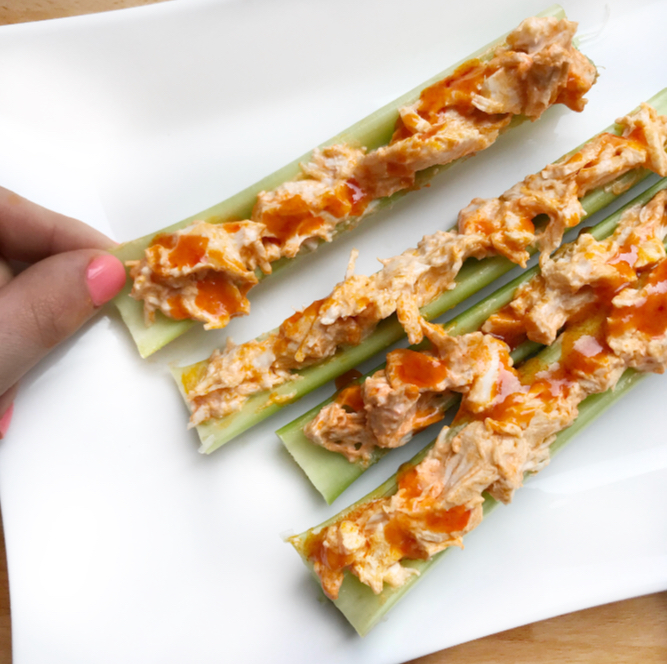 I am seriously loving these right now though. I've been taking them to work for a quick and easy lunch or brining them to parties so I know I have a healthy alternative if there is none there. Plus, my brother really loved this recipe, and (trust me) he is the truest critique I know.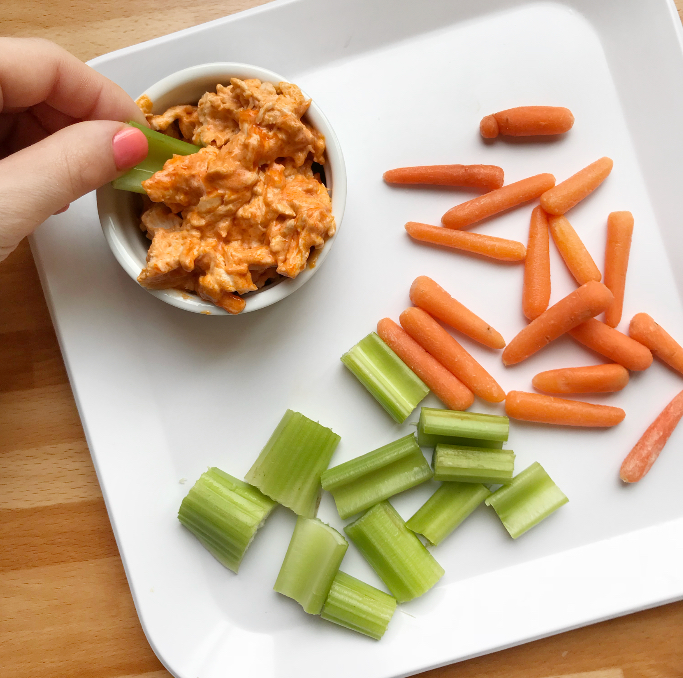 And when I said these were easy, I wasn't kidding. Here is the recipe… hope you enjoy!
Ingredients:
1.5 cups of shredded chicken (can use pre-made rotisserie chicken or follow recipe below for poaching)
6 Tbsp. hot sauce
2 Tbsp. grass fed butter unsalted ( I use KerryGold)- can use 1 Tbsp. if you want to decrease the butter
2 Tbsp. plain greek yogurt or kite hill plain cream cheese spread (either works well)
Directions:
Step 1: In a pan on medium heat, whisk together hot sauce and butter until combined (usually about 1 minute)
Step 2: Mix 2 Tbsp. plain greek yogurt into the chicken until evenly coated.
Step 3: Mix buffalo sauce into the chicken until sauce is distributed evenly.
Step 3: Either Spread onto celery sticks or use as a dip. Enjoy!
Poached chicken: Place chicken breast in a large pan and cover chicken with half water half low sodium bone broth. Cover chicken by about 1 inch and bring liquid to a boil. Once liquid boils, drop heat to a simmer and let sit for 10 minutes. After 10 minutes, remove from heat and cover pan for 20 minutes or until chicken is fully cooked. Then shred the chicken and you are good to go!
With Love,
Heather