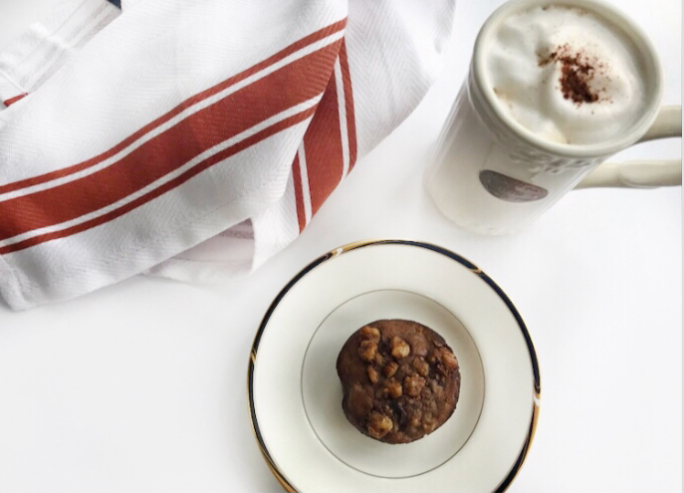 I truly believe sometimes the best things are made by accident! These protein chocolate chip banana muffins were not planned,but I'm glade they happened. I mean chocolate and banana in a muffin, how can that possibly go wrong?!
Besides the fact that they made my house smell heavenly, they were seriously delicious! The best part is they are only sweetened with banana and the protein powder if you choose to use it. Pair them with a cup of joe, tea, or hot coco or even smear some nut butter on them for a little twist. They're are sure to not disappoint! Hope you enjoy =]
Ingredients:
Wet:
2 ripe bananas
2 whole eggs
2 Tbsp coconut oil
1 heaping Tbsp cashew butter (or really any nut butter) note: if you use peanut butter you will taste it, which doesn't sound so bad tho!
1 Tbsp maple extract (can also use vanilla extract in place, but I recommend maple extract!)
1 Tbsp unsweetened vanilla almond milk (can use any milk)
Dry:
1 scoop plant protein powder (can use 1/2 cup almond flour) note: I vanilla used pea protein, other protein powders such as whey may yield different results
2 Tbsp flax seeds
2 tsp arrow root powder
1 tsp cinnamon
pinch of sea salt
Add ins: 1/2 cup chocolate chips. Can also add walnuts too!
Optional topping:
1.2 cup crushed raw walnuts
2 Tbsp vanilla ghee
1 Tbsp coconut sugar or maple syrup
Directions:
Step 1: Preheat oven to 350 degrees F. In a bowl mash bananas well with a fork. Add the remaining wet ingreidents to the bowl and mix together.
Step 2: Add all dry ingredients to the wet ingredients and mix well.
Step 3: Stir in chocolate chips and walnuts if desired.
Step 4: Spray muffin tin or use muffin liners and fill up 3/4 of the way.
Step 5 (optional): Mix all topping ingreidents together and sprinkle on top of muffins.
Step 5: Bake in the oven for 30-35 minutes (Stick with a fork to see if they're done. If they are finished no batter should be on the fork)
Step 6: Enjoy!