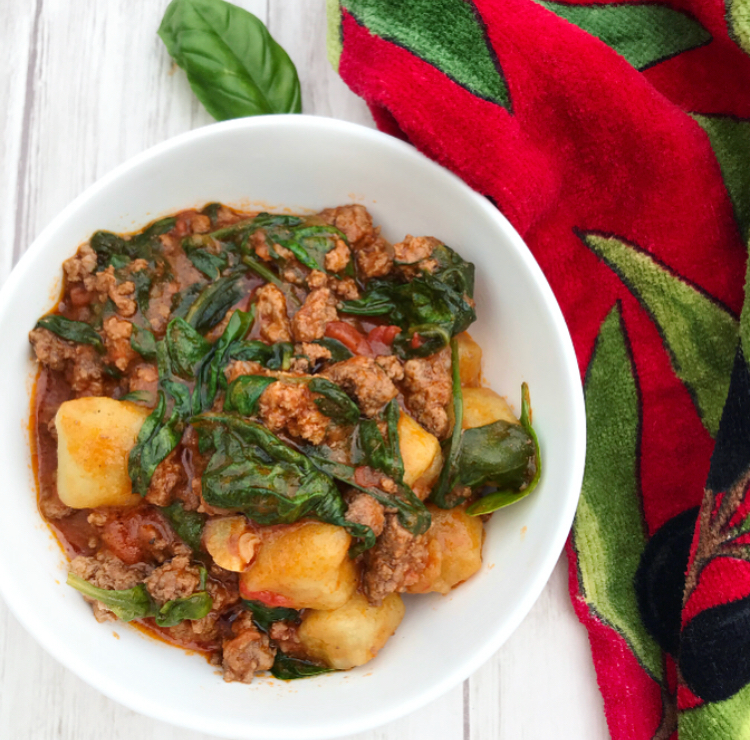 I already knew what I was making with the infamous cauliflower gnocchi from Trader Joe's before I picked it up from the store and it did not disappoint! Since then I've made this recipe over and over again and decided it was finally time to share it with you guys. This cauliflower gnocchi bolognese is a recipe I've used in the past with zoodles but this "pasta" made it feel like a real indulgence. 
This meal really reminds me of one of my favorite childhood home cooked dishes, especially perfect for fall coming around the corner! I do love the warm weather but I can't say I'm not excited to throw on a comfy sweater and creating some more warm and delicious recipes like this one.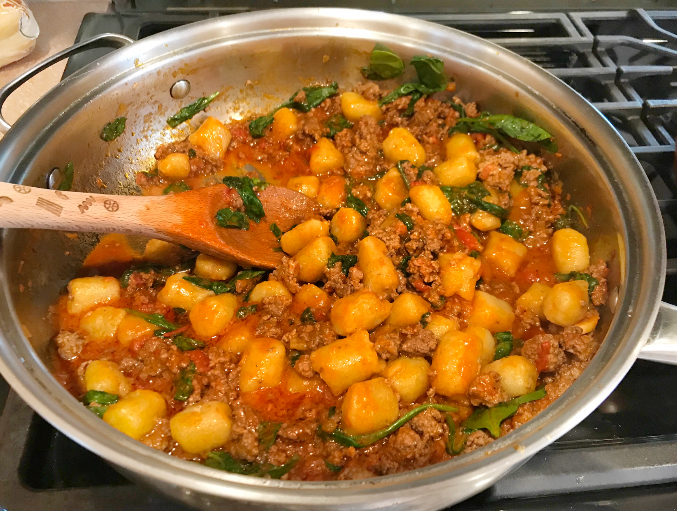 Just a tip when it comes to marinara sauce I personally love the brand Rao's but whatever sauce you choose make sure there is not added sugar in the ingredient list! Avoiding adding sugar is one easy way to improve your health. We have room for a little added sugar in our diet but if you ask me it's as waste to use it in a savory sauce. Especially when some brands make delicious sauces without it.
The recipe can be dairy free by omitting the parmesan cheese and at the end or by using a dairy free cheese substitute. It is also gluten free thanks to Trader Joe's cauliflower gnocchi.
These ingreidents are easy to have stocked up on in the house so you can whip it up when your feeling like making a really simple and mindless tasty dinner. I really hope you enjoy this recipe. If you make it definitely share with me what you think. Now lets get to the recipe!

Cauliflower Gnocchi Bolognese
Ingredients
1 Bag Trader Joe's Cauliflower Gnocchi
½ Bag of Spinach or any greens
1 Pound Gras-fed Ground Beef
1 Garlic Clove
1 Tbsp. Olive Oil
Marinara sauce (1/2 jar) - I use Rao's
Parmesan cheese
Instructions
Heat olive oil on a large pan
Add 1 clove crushed garlic and let brown for a few minutes
Add beef to hot pan and break into small pieces
While beef is cooking, cook cauliflower gnocchi using the directions on back of the label or an even better method which is microwave with a cover for 4 minutes and sautéing with a little grass fed butter until golden brown
When beef is done cooking add marinara sauce and spinach to pan and mix together
Then add in cauliflower gnocchi when its done cooking and mix again
Sprinkle with some parmesan cheese and enjoy!