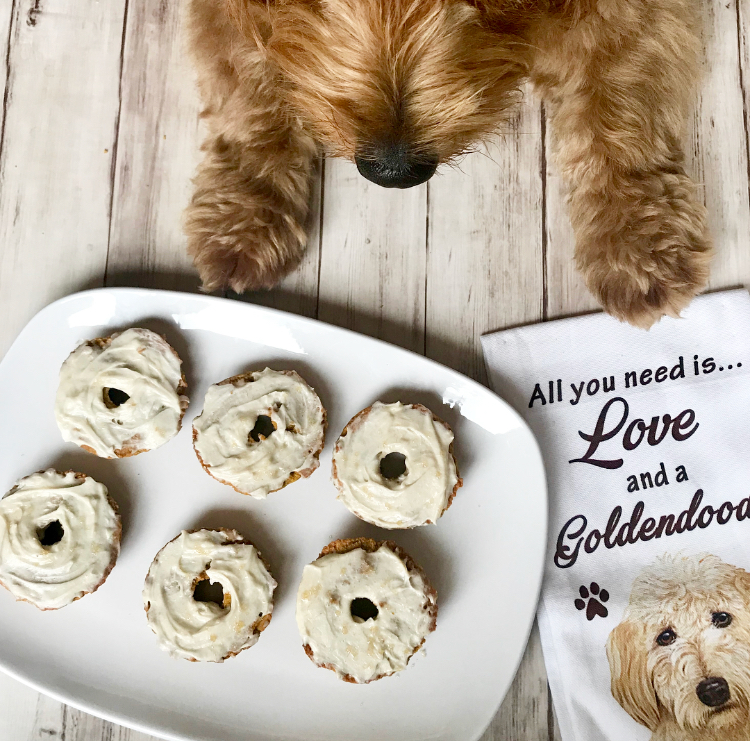 What better way to celebrate October 1st than with these pumpkin spice donuts and cream cheese frosting! For me, october first is when fall season officially beings. I took Dallas (my pup in this pic for those of you that don't know) for a walk this morning and the weather was just perfect. These are my favorite days when its sunny out with a little breeze and the autumn leaves are falling off the trees.
I used to not be into the whole pumpkin spice stuff, maybe I was trying to not be basic idk! lol. But I can't get enough of it the past few years, especially during this time of year!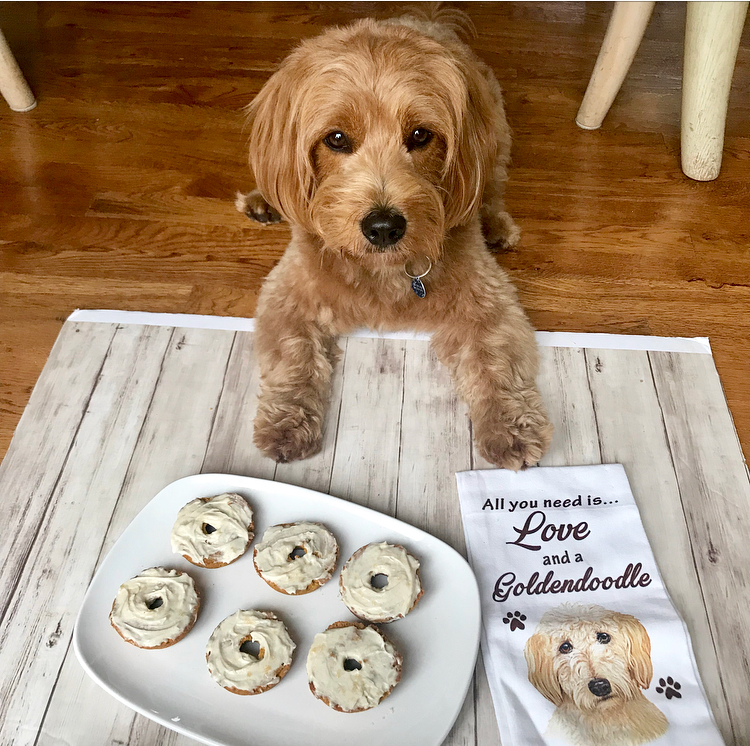 Behind the scenes of my pumpkin spice donuts photo shoot lol! He is such a good boy when I'm shooting pictures. It was actually hard to get him in this picture since he's so use to me telling him to stay when he gets near my set up!
These pumpkin spice donuts are really the perfect way to soak up all the amazing fall vibes. Plus, they go really well with a pumpkin spice latte too! These donuts got 2 thumbs up from my family so I knew it was time to share them with you guys. Hope you enjoy them as much as we did!
Pumpkin Spice Donuts and Cream Cheese Frosting
Author:
Prep time:
Cook time:
Total time:
Ingredients
Pumpkin Spice Donuts:
1 1/2 cup almond flour
1/4 cup canned pumpkin puree
1/4 cup almond milk
5 Tbsp. maple syrup
1 egg
2 tsp. coconut oil buttered flavored (can sub ghee or butter)
1 tsp. vanilla extract
1 tsp. pumpkin spice seasoning
1/2 tsp. cinnamon
3/4 tsp. baking powder
pinch sea salt
Cream Cheese Frosting:
4 Tbsp. plain dairy free cream cheese (I used kite hill)
1 Tbsp. maple syrup
2 Tbsp. monk fruit
1/2 tsp. vanilla extract
1/4 tsp. pumpkin spice seasoning
Instructions
Pre-heat oven to 350 degrees F and grease donut pan
Mix all donut ingredients together until evenly combined
Fill each donut mold about 3/4 full with dough
Bake in the oven for 20 minutes or until fork comes out clean
Let cool for at least 10-15minutes
While donuts are cooling down make cream cheese frosting by adding all ingredients to a bowl microwave for 10 seconds and mix well
After donuts have cooled off add frosting and enjoy!
Notes
If you do not have a donut pan you can make in a muffin tin.