Daily Harvest low carb products have saved me over the past few months! 
I get asked quite often if I have any low carb frozen meal recommendations for a quick and easy meal option since so many babes I speak to are always on the go or have super busy schedules.
And to be honest, for the longest time I never recommended any frozen meals because they were filled with crap and not aligned with my philosophy at all. If I'm not gonna eat something myself or recommend it to a client, I'm sure as hell not gonna recommend it to you babes either 🙂
However… after trying Daily Harvests' products and absolutely loving the taste and well-balanced nutrition, I was hooked! And I want to share with you 5 reasons why I'm absolutely loving Daily Harvest!
FYI: Not all there products are low carb but SO many are (over 30) and I wanted you to have those options all in one place for your convenience!
Convenience:
Daily Harvest makes living a healthy / low carb lifestyle super convenient for a busy babe like myself. They provide an almost effortless way to increase fruits and vegetables in your diet because all you have to do is open the container and heat or blend it up rather than scrolling through Pinterest and trying to find the next somewhat appetizing vegetable recipe.
Whole Foods/Plant Based:
Daily Harvest is made with whole food ingredients and they offer gluten and dairy free options for those with intolerances. They do not have any gums, fillers, refined sugars, preservatives or artificial ingredients in their meals and snacks!
Quality of Care: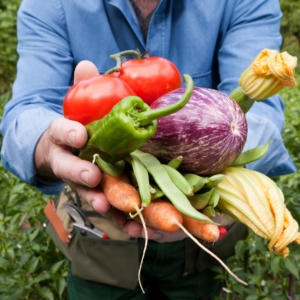 The reason their products come frozen is because they work directly with farmers to grow the best produce, harvest it at the optimal time, and freeze it within 24 hours to secure amazing flavor and nutrition.
Low Carb Products
Although not all of their products are low carb, I was really impressed with their low carb selection. However, it's important to note that some of the low carb options are also a bit lower in protein than what I recommend. Keep in mind, for a meal, we want to make sure to add protein because protein shuts off our hunger. We want to aim for at least twenty grams of protein with meals. This is easy to do. For example, if the smoothie contains less than that, you can always add a scoop of protein powder to it or make a side of eggs to have with it.
Sustainable
Last but not least, Daily Harvest undergoes regenerative farming practices and offers packaging that is good for the environment. This is something that is really super important to me to find in products. 
I wanted to share a list of the low carb options from Daily Harvest for if you want to give them a try but still keep it low carb 😉
Low Carb Daily Harvest Products
(all 20 net carbs or less)
Click HERE to check out their website 
Code HEATHERD for $25 off your first order
Smoothies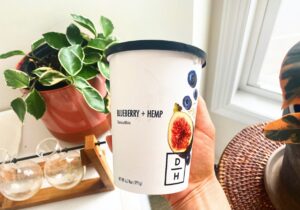 Mango and Papaya Smoothie
Cherry and Almond Smoothie
Mango and Greens Smoothie
Pineapple and Matcha Smoothie
Cold Brew and Almond Smoothie
Blueberry and Hemp Smoothie
Mandarin and Carrot Smoothie
Cucumber and Greens Smoothie
Watermelon and Dragon Fruit Smoothie
Passion Fruit and Greens Smoothie
Harvest Bowls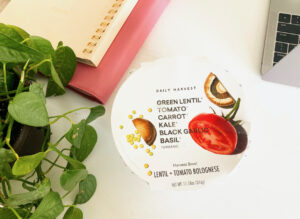 Gigante Bean + Savoy Cabbage Harvest Bowl
Broccoli + Cheeze Harvest Bowl
Red Lentil + Cumin Harvest Bowl
Artichoke + Lemon Harvest Bowl
Cauliflower Rice + Pesto Harvest Bowl
Cauliflower Rice + Kimchi Harvest Bowl
Kale + Lemongrass Harvest Bowl
Broccoli Rice + Dill Pilaf Harvest Bowl
Brussels Sprouts + Lime Pad Thai Harvest Bowl
Soups
Lentil + Cremini Soup
Carrot and Coconut Curry Soup
Cauliflower + Leek Stew
Tomato + Bell Pepper Gazpacho
Tumeric + Lemongrass Broth Soup
Mushroom + Miso Soup
Forager Bowls
Raspberry + Mulberry Seeded Forager Bowl
Chia Bowls
Chocolate + Almond Chia Bowl
Vanilla Bean + Apple Chia Bowl
Blackberry + Majik Chia Bowl
Bites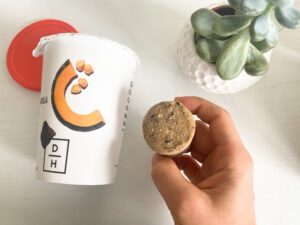 Hazelnut + Chocolate Bite
Cacao Nib + Vanilla Bite
Coconut + Lemon Bite
Espresso Bean + Tahini Bite
Lattes
Chaga + Chocolate Latte
Coffee + Almond Latte
Matcha + Lemongrass Latte
If you are interested in trying out Daily Harvest CLICK HERE to get 25$ off first by using the code HEATHERD at checkout! Hope you love them as much as I do <3
If losing weight living a low carb lifestyle without counting calories or being hangry is something you want to learn more about, I have a FREE training on exactly that. You get instant access to it if you click this link. It will bring you straight to the video and you can watch my step-by-step process that I teach my clients to lose weight, living a low carb lifestyle!