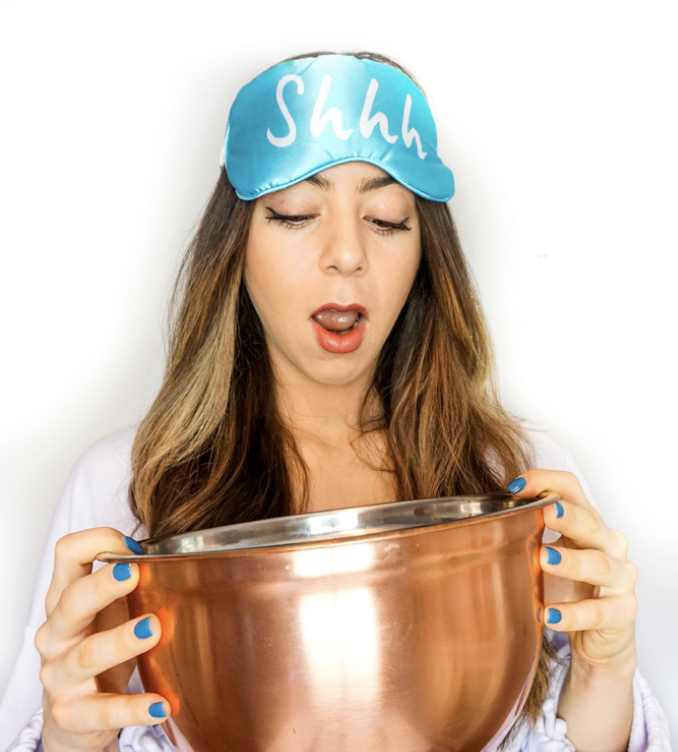 When trying to lose weight, figuring out how to prevent food cravings was one thing I used to struggle with. This made the process feel IMPOSSIBLE for me to actually stick to my plan. 
For most of my life, if you put any sort of sweet in my face, I felt helpless. Like the only option I had was to obviously eat the delicious chocolate chip cookie.
And just side note: even if you say you don't crave sweets and you crave salty things like popcorn or chips- that is still craving sugar babes! Popcorn and chips are still carbohydrates. All carbs break down to blood sugar so it is essentially the same damn thing!
But to get back to it, I felt like they had some sort of hold over me. I swear the sweets in my house or at work were literally calling my name all like " Heather, I know you know we're here- come eat me, we're delicious!" haha can you relate?
Let's talk about why this is happening, you're not alone.
If I didn't grab it right away, I would just think about it for hours and then finally when my "will power" broke I'd go grab multiple cookies and eat them not even enjoying it by that point because I felt guilty about the fact that I just F up my diet. The part that made me feel the worst is that I found myself eating things I didn't even really enjoy and I couldn't understand why this was happening to me.
And god forbid I went out to dinner and didn't get dessert. How would my meal be complete? What was even the point of going out to eat if I didn't finish my meal with a brownie Sundae topped with vanilla ice cream and walnuts? Even if I wasn't hungry and felt disgusting after!
If you are feeling like this, I get it. I get how difficult it can make your weight loss journey. As I started studying psychology and nutrition, I realized this just wasn't a way to live. There had to be a way to enjoy these treats like a warm baked chocolate chip cookie without feeling like they had control over me instead of me having control over them. I mean it's a cookie for god sakes!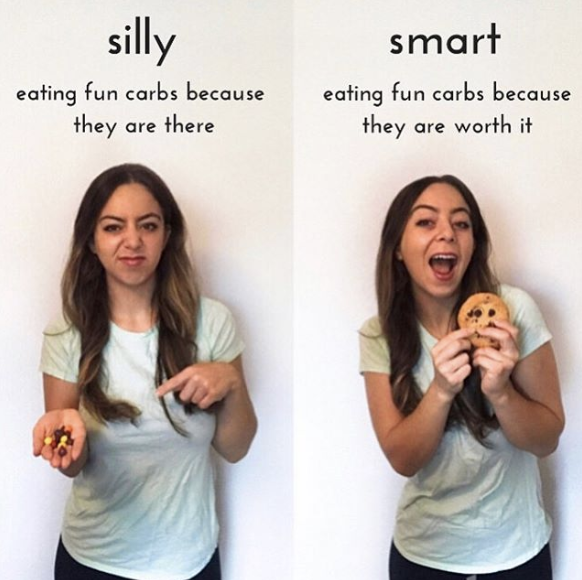 When I figured out how to prevent food cravings…
I no longer went overboard or felt deprived. Now, I feel in control of my food choices. I don't "have to have" anything and I understand when I actually want something versus when I am not setting myself up for success to not crave things. For example, I sit here writing this in a Starbucks, which in the past that pastry display would have been a trigger for me. I can't even remember the last time I bought a cake pop with my coffee at this point. Not because I can't have it but because I literally do not want it. And that is a fucking freeing feeling to have!
How to prevent food cravings is now what I get to teach my 1:1 clients. How to live a life of food freedom so they can have a cookie if they want it but know how to avoid the uncontrollable cravings for them when trying to lose weight. And this my love, is when you can really live your life to the fullest while losing weight!
So let's get started shall we…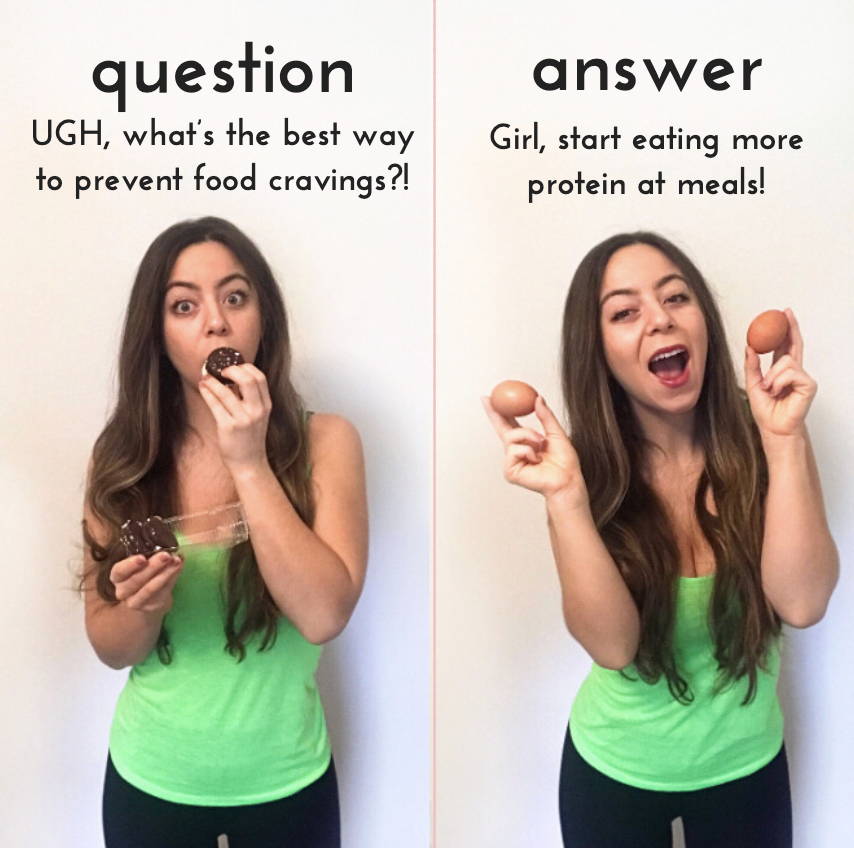 So how do you prevent food cravings? The first step to dealing with food cravings is preventing them in the first place. This is important because you want to keep your defenses up. If you ever watch Game of Thrones or really any war type movie when they go to battle they have their walls up. They put guards in the front with those shields, weapons shooting from above, etc. This prevents people from getting into the castle or area of battle. This is essentially what we are doing with our food cravings. We want to put all the walls up so we can knock em down or weaken them before they actually hit us. 
If you don't focus on preventing them then you are setting yourself up for failure.  So the secret to preventing food cravings and how to have ultimate food freedom is understanding how to control your blood sugar because babe let me tell you, when your blood sugar is in control, you are in control!
Eat to balance your blood sugar
Blood sugar control is one of my favorite topics to talk about and no it is not just for diabetics…. Yes even you young babes want to learn how to balance your blood sugar because not only is it anti-aging 😉 but it will help prevent those dreadful cravings holding you back from losing those 15 pounds!
Here's why it is important… have you ever gone to the supermarket starving and wind up opening a bag of chips before you even get to the register? Reaching your hand in the bag only to discover all the chips are gone! How did that happen?! Or find yourself constantly craving cake, cookies, crackers, breads, and pasta's. Maybe you are always in the mood for "something sweet" and a coffee after your lunch break when the clock strikes 2pm without fail. That's your blood sugar talking to you. It's saying "hey, I need you to fuel me better!"
I'm not judging you cause I've been there too like I've told you before. I promise you, for the most part you'll never be extremely hungry with low blood sugar and craving some veggies. There's a reason why when you go out to eat and you're starving you can't help but reach for the bread basket. Even if you don't really want it. Your mind automatically turns to those foods high in carbohydrates and sugar. It's actually quite straightforward, since your body knows carbs are going to give you quick energy, your body feels it desperately needs them in that moment. You become a car running on empty. You begin feeling depleted, shaking, starving, ready to eat anything that is in front of you.
So how do we prevent this from happening and balance our blood sugar?!
By following my low carb meal formula, which emphasizes foods that do not break down to blood sugar. Put protein, healthy fats and veggies on your plate with one portion of high fiber carbohydrates max.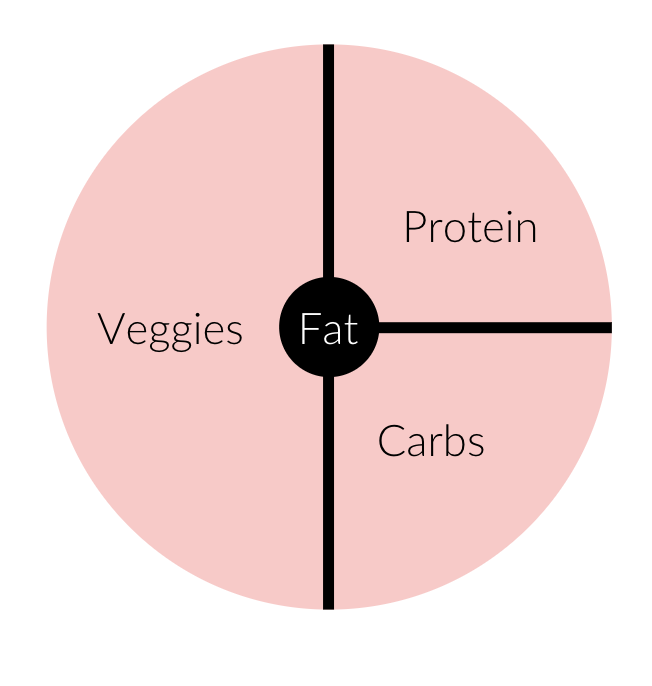 When you learn how to balance your plate with my low carb meal formula you will feel full and satisfied after your meals where you won't be thinking about food for hours even if there are cookies in the next room of at work! I've seen it over and over with myself and clients and cannot wait for you to feel that way too!
For more info on this topic check out these other blogs:
Why we should all be eating like a diabetic
Formula for building a balanced meal
Exercise
Another tip on how to prevent food cravings is to get movement in. Many studies suggest even going for a 30 minute walk may help reduce cravings for chocolate (my personal weakness hehe). 
Exercising is also another way to better manage blood sugar control, which like we said before is crucial for preventing cravings. When we exercise we eat up excess sugar in our blood stream using it for energy and therefore making our blood sugar more stable. You'll be surprised what a quick gym sesh can do for those cravings!
Drink more water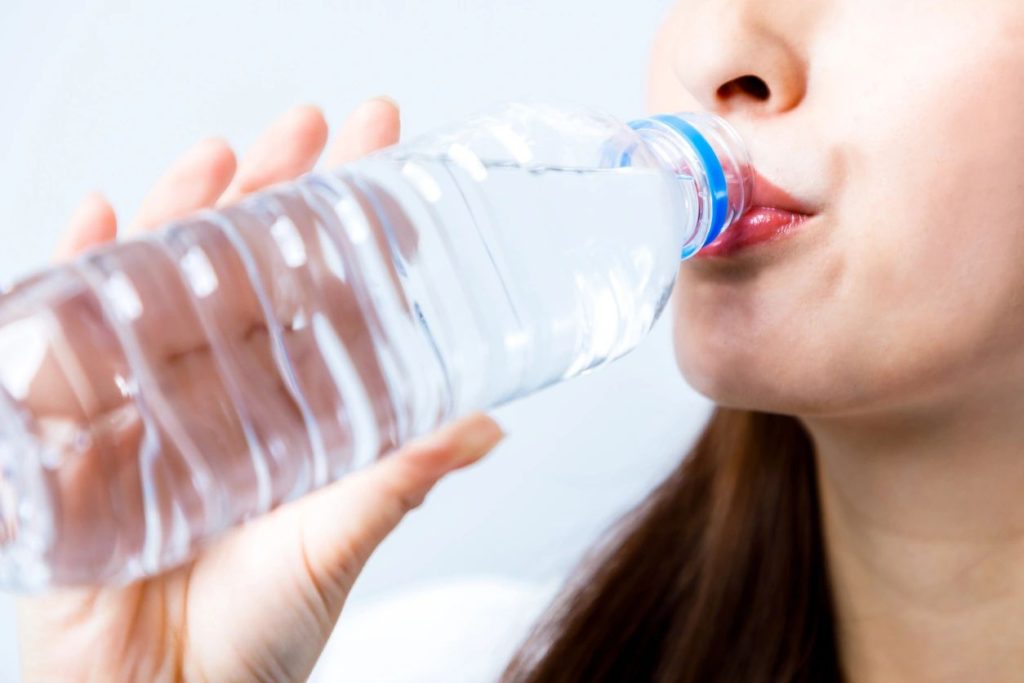 The centers for hunger and thirst in our brain are so close to each other. If you are dehydrated, your body will think you are hungry! This is an easy fix for me and my clients so make sure to keep hydrated and if you feel any cravings coming on, drink water!
Ditch the added sugar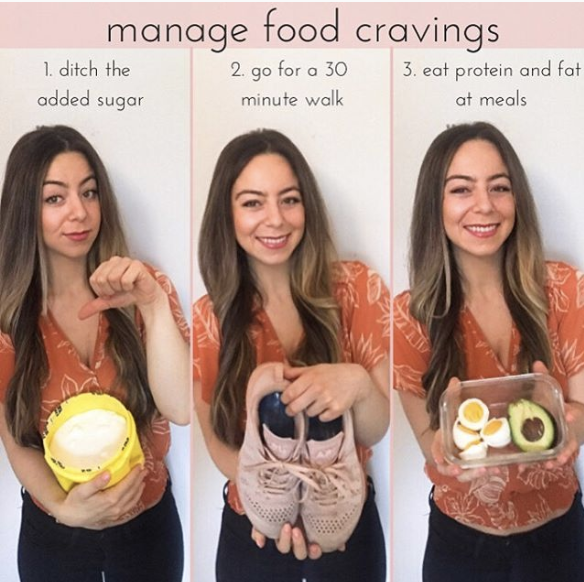 Ok so I don't mean all of it but really reduce your added sugar intake hidden in things like table sugar, honey, agave, sodas, sugary beverages, granola bars, muffins, baked goods, etc. The less you eat them the less you will crave them. The cool thing is that your taste buds will actually adjust to less sugar so after about 14 days your sensitivity to sugar will increase and you will need a lot less of sweetness to get a similar effect.  
Sleep Deep
Have you ever noticed if you had a rough night sleep you seem to be extra hungry the next day? You grab a latte on the way to work but are crashing by 3pm. You get home from work and haven't even been in the door for 5 mins yet but you are already raiding the pantry. Your typical dinner doesn't seem to satisfy you so you spend the rest of the night picking and grazing until you go to bed feeling so disgusted with yourself.
If you are constantly not getting good sleep it will lead to crazy cravings and poor food choices. This makes it SO much more difficult to lose weight. Science suggests that if we are not getting adequate sleep, it can increase hunger hormones and decrease satiety hormones. Basically, if you're not sleeping well, it physiologically makes it harder for you to make the choices I know you want to make. By sleeping enough, it can help you make better choices and lose those 15 pounds.
Make sure to sleep 7-9 hours a night to balance those hunger hormones and lose weight! Check out a blog on this topic HERE!
Click HERE to check out my FREE workshop to help you lose weight without food cravings or being hangry!