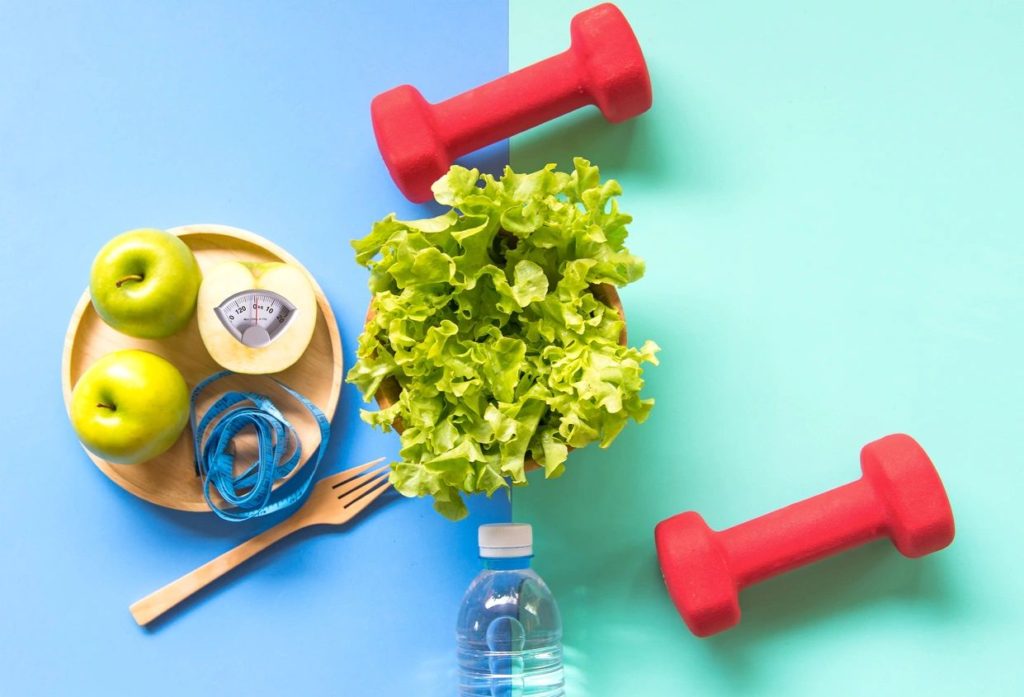 Have you ever heard that saying success is found in your daily routine? Well girlfriend, your habits are what make up your daily routine and will be the things that either propel you forward to reach those amazing goals of your or hold you back from leveling up your life!
It's not easy to break a habit. The reason being is the habit that you are doing is the "easier" option. So first we want to understand the 3 things that make up a habit…
Cue: This is a trigger that causes a response. This is typically a location, time of day, person or an emotional state. Take a minute and figure out what your triggers are! For example, maybe it's Becky at work who doesn't stop asking you questions or the fact that you still need to go shopping for the holidays even tho they are like only weeks away- aka me! LOL
Action: This is the response of the cue. Whether the response is healthy or unhealthy is the question that defines if this is a "good" habit or a "bad" habit.

Reward: This is the whole reason you are doing the action in the first place! How does this make you feel? Typically, when it is a bad habit the reward also triggers the cue. So for example, if you are stress eating it may make you feel good momentarily but afterwards you may feel guilty, ashamed or stressed – which, (well what do you know), triggers the cue! On the other hand, if you are stressed and then go to the gym you will most likely feel better after and the cue will not be triggered!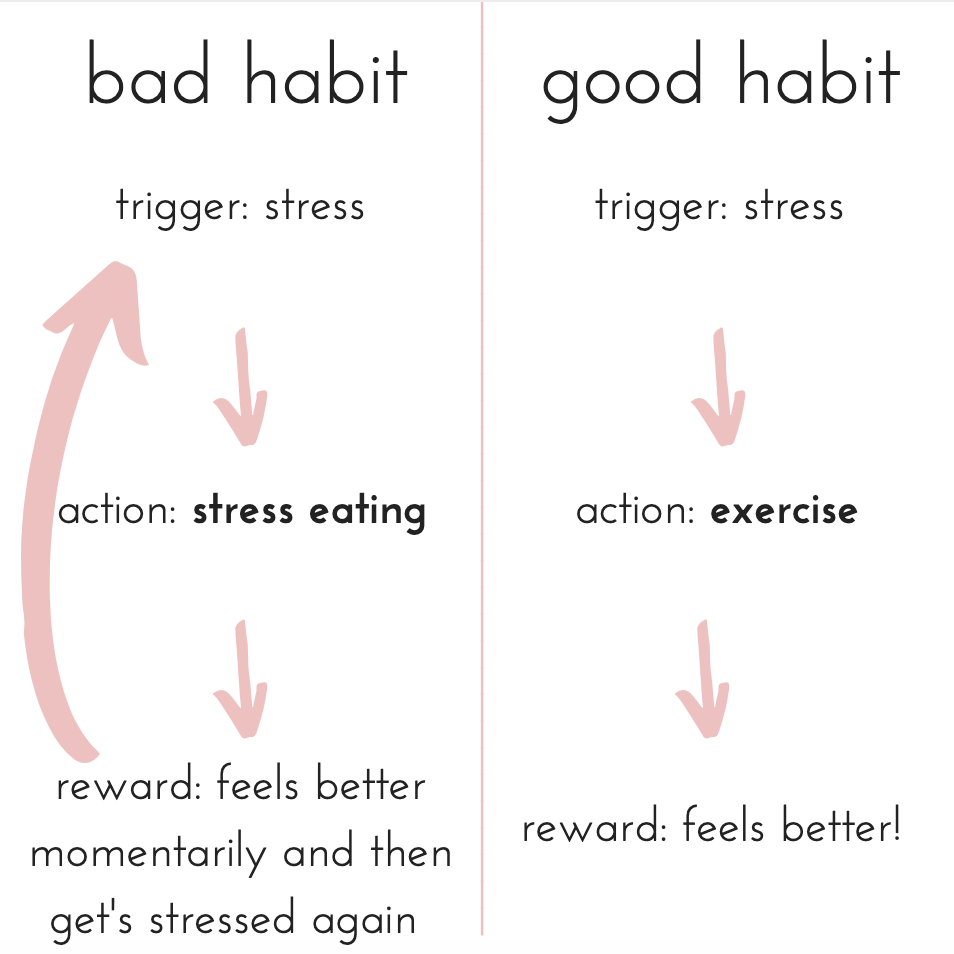 So remember, before I get into what these habits are… they WILL take time to stick! This will not be an automatic response, you will probably want to do the easier option first but if you stay focused and really commit to implementing these changes I promise they will become second nature over time! I would start with focusing on one of these at a time until you get REALLY good at that one thing and then move on to the next for best results. You will be so surprised how making the smallest changes can make the biggest impact on your results. Don't overwhelm yourself by trying to do all the things at once- you know that never works! Allow yourself to have the time to make these changes for the rest of your lifeeee.
Habit #1: Increase your veggie intake and eat them first at meals!
WHY: So this is more of a two in one but if you start to implement this you will not only notice a difference in your weight but also will find yourself having more energy, better digestion and better control over your appetite. I have literally had clients do nothing else but this and lose those last 5 pounds. Yup! Sounds simple but it works like a charm.
HOW: Start by adding an additional 1 cups of veggies to lunch and dinner. Breakfast I always say they are optional but of course recommended 🙂 Ideally, the goal is 2 cups at meals, which is about ½ your plate but if you are not used to eating veggies on the reg, transitioning 1 cup at a time is totally fine! Any veggies is better than no veggies!

One way to make this easier is to make your veggies TASTE GOOD! Noone wants to eat boring plain steamed brussel sprouts and if you do kudos to you babe! I'm a dietitian and I don't want to do that so if you feel the same I GET YOU haha. I'm a foodie and like food that tastes yummy just like you! So the secret is to make them in different ways and add delicious flavoring and seasonings to make them taste so good.
Different ways to eat veggies…
Raw
Sauteed
Roasted
Steamed
Grilled
Spice them up with…
Coconut aminos
Marinara sauce
Vodka sauce
Spicy mayo
Garlic and oil
Parmesan cheese (or any cheese)
Pesto
Guac
Hummus
Full fat dressings
Bacon (eg. with roasted brussel sprouts and parmesan- yum!)
When you find ways to make your veggies less boring and more delicious you will want to eat them more love!
Habit #2 Prioritize protein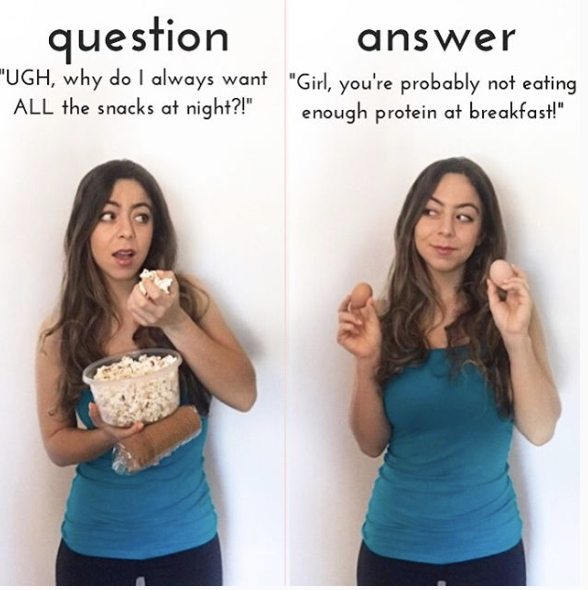 WHY: Not only is protein an essential nutrient but it is also important for keeping that metabolism up, you looking nice and toned and decreasing cravings for carbohydrates! Some studies even suggest that not eating enough protein at breakfast can leave you with cravings later on at night!
HOW: I recommend all my clients get at least 20 grams of protein at meal times to help them lose weight and decrease cravings. Here are some easy ways to get protein in at meals …
Pre-made rotisserie chicken (make ya life easy babe!)
Tuna or salmon packets
Frozen shrimp or scallops
Turkey slices
Hard boiled eggs
Cheese (string cheese, cottage cheese, etc.)
Protein powder (can keep individual packets on you). My favorite protein powders are collagen fuel and tone it up
Habit #3: Skip carbs at one meal per day
WHY: Not to get all sciency with ya but this is an important concept for you babes to understand. When you eat carbohydrates they break down into blood sugar, which releases a hormone called insulin. Insulin's job is to take that blood sugar and put it into our cells to be used as energy. Since insulin is a storage hormone our body cannot burn fat in it's presence. So if you skip carbohydrates at one meal per day you minimize the release of insulin and are optimizing your bodies ability to burn fat during that time- cool right?!
HOW: Now that we know why it's important to skip carbs at one meal per day you're going to want to find a meal that works best for you to skip them. You can switch this up but I find having a specific meal you usually skip your carbs at can make your life so much easier for meal planning. A couple things you will want to consider are…
When are you working out
Where are you most attached to them
What works best for your body
This might take a little trial and error but totally worth it in the long run.
Habit #4: Get more ZZZZ's (aka sleep)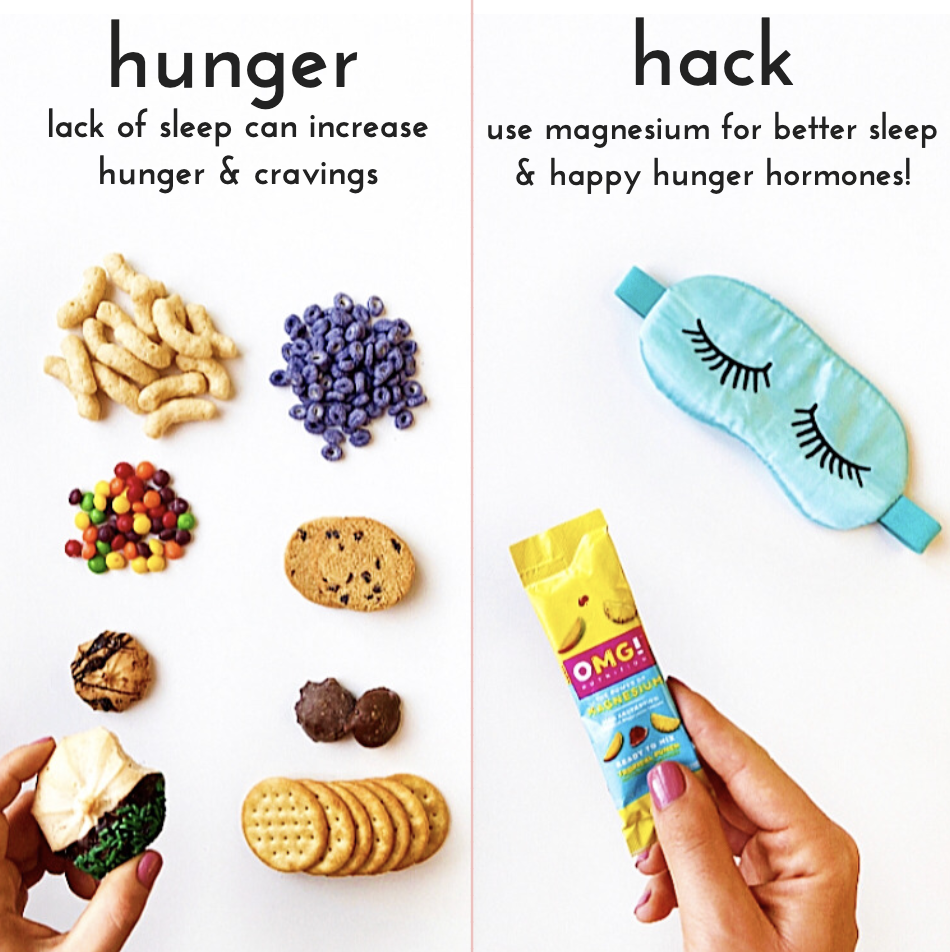 WHY: Have you ever noticed if you had a rough night sleep you seem to be extra hungry and "munchy" the next day. Maybe you grab a latte on the way to work but are crashing by 3pm looking for a cookie to pick you back up. You get home from work and haven't been in the door for 5 mins yet but you are already raiding the pantry for something "sweet" or "crunchy". Your typical dinner just doesn't seem to satisfy you so you spend the rest of the night picking and grazing until you finally go to bed feeling so disgusted with yourself If you are constantly not getting good sleep it will lead to crazy cravings and poor food choices, which makes it SO much more difficult to lose weight. There is science to suggest that if we are not getting adequate sleep it can increase hunger hormones and decrease satiety hormones. So basically, if you're not sleeping well, it physiologically makes it harder for you to make the choices I know you want to make to lose those 15 pounds. Mg is a mineral most people are deficient in and is so important for decreasing stress and improving sleep quality.
HOW: If you want to improve your sleep so you can regulate your hunger and finally lose weight try taking a magnesium supplement. When it comes to supplements you want to make sure you get good quality products or else they are just a waist of your mola! The form OMG magnesium uses is mg glycinate, which is the most bioavailable to our bodies. NO JOKE, I use this supplement daily as part of my bedtime routine and basically recommend it to all my clients who are just as obsessed as I am. I can't sleep when I am stressed but this stuff makes me feel so relaxed I am ready to pass out by the time I finish it. 
If you want to learn more about why sleep is important for weight loss and how to improve it read my blog "Can't lose weight or control your hunger, try sleeping!"
Habit #5: Drink at least ½ your body weight in oz. of water!
WHY: Water is essential. You need water for EVERY process in your body. If you are dehydrated your body is not going to prioritizing losing weight. So don't let this simple fix be the thing holding you back from your fat loss goals.
HOW: Let's calculate your needs (minimum needs I should say) by taking your body weight, dividing it by 2 and that's how many oz. you should drink per day. For example: if someone weighs 140 pounds ½ that would be 70 oz. of water per day. To figure out how many cups it is divide it by 8 because there are 8 oz. in a cup! So that is about 8.75, we'll round up to 9 cups per day ;). Some tips to help make sure you are getting your water in are to…
Always carry a water bottle on you. In sight, in mind! I recommend to check how many oz. of water your water bottle holds and then set a goal of how many you need to finish to meet your needs! There are even water bottles like this one that light up to remind you to drink more water! Such a fun Christmas gift 🙂
Along with setting a water goal for the day I also recommend setting goals of when you finish each water bottle throughout the day and set an alarm on your phone to help prompt you. You can make the alarm say something fun like "you got this girl" to help motivate you! This will help you not leave all your water left to drink at night time so your sleep is not disrupted by needing to pee every 5 minutes- your welcome 🙂
Add things in your water to flavor it such as true lemon packets, fruit/veggies/herbs, herbal teas or stevia drops! Actually, one of my clients told me the other day OMG magnesium helps her drink more water cause it taste so good but wouldn't recommend more than one of those per day since it is a supplement!
I know if you follow these 5 fat loss habits you will be well on your way to losing some weight before the new year so you can feel confident AF in your New Years Eve dress! Don't underestimate the power of small changes to your daily routine. If you stick with them they will change your life 🙂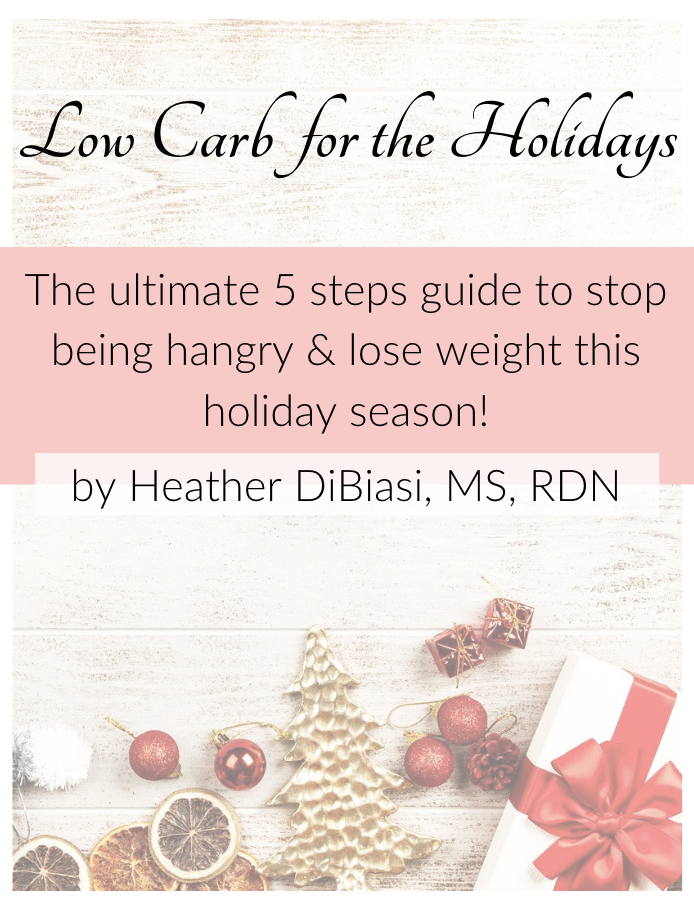 Click HERE to grab my Low Carb for the Holidays Guide to help you stop being hangry and lose weight this holiday season! Happy holidays babe <3