How do you prevent food cravings? If you're struggling with what feels like uncontrollable food cravings on your weight loss journey, I totally hear you, girlfriend.
The struggle to prevent food cravings was probably one of the biggest things that I struggled with on my journey to lose 20 pounds. Honestly, until I was ready to grasp what helped prevent those cravings and what to do when they did hit, I really wasn't seeing much weight loss. I was constantly thinking about food and craving things that weren't necessarily the best for my weight loss. And it made my journey so much harder.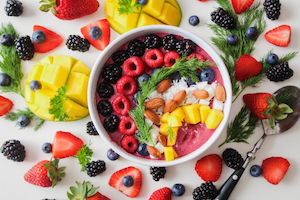 I want to share five simple ways to actually prevent those cravings from happening in the first place. Now that's not to say you're never going to have a food craving. Of course, it's going to come up. But if you put these barriers in place, it's going to be, be a lot less often. And that's really, really incredible when it comes to losing weight and it makes your journey so much easier. This is now something I love helping my clients overcome.
…