How do you prevent food cravings? If you're struggling with what feels like uncontrollable food cravings on your weight loss journey, I totally hear you, girlfriend.
The struggle to prevent food cravings was probably one of the biggest things that I struggled with on my journey to lose 20 pounds. Honestly, until I was ready to grasp what helped prevent those cravings and what to do when they did hit, I really wasn't seeing much weight loss. I was constantly thinking about food and craving things that weren't necessarily the best for my weight loss. And it made my journey so much harder.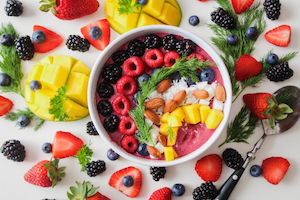 I want to share five simple ways to actually prevent those cravings from happening in the first place. Now that's not to say you're never going to have a food craving. Of course, it's going to come up. But if you put these barriers in place, it's going to be, be a lot less often. And that's really, really incredible when it comes to losing weight and it makes your journey so much easier. This is now something I love helping my clients overcome.
Prevent Food Cravings: Tip #1-Make Sure You're Eating Enough Throughout the Day
9 out of 10 clients I work with come to me under fueling throughout the day. This causes them to have cravings specifically around 3 to 4:00 PM. Then after dinner, instead of feeling full and satisfied, you feel like you just wasted your whole day. Trust me, I know what that's like; I've been there, feeling super unsatisfied and not satiated with anything. You are trying to eat the lowest amount of calories as possible because you just binged late at night the day before and you don't really know why. 
It's not even your fault. One of the main reasons it happens is it's physiological, it's happening on a biological level. If you're not fueling yourself enough throughout the day and your blood sugar starts dropping low. What typically happens then is you either have really low energy and maybe you're able to white knuckle it through the day with a coffee and a couple of little snacks.
If you're not eating enough throughout the day, you're not going to feel satisfied after dinner and you're going to want all the food.  Since we're doing the bulk of our activity during the day, we get home at night, sit down to relax, and try to eat something healthy only to feel out of control later on after dinner.
When our blood sugar is low, hello, that's when cravings come in. Our bodies are smart. They know when our blood sugars are low, that the carbohydrates are going to help pick our blood sugar back up. 
So do yourself a favor, girlfriend. Make sure that you're eating enough throughout the day to fuel your needs so that you can lose weight without having to have these cravings all day long.
Prevent Food Cravings: Tip #2 – Find your Carb Tolerance or your Carb Sweet Spot
Basically, what your carb tolerance is, is that sweet spot of carbohydrates that makes you feel, energized, satisfied, not having cravings, and you're still able to lose weight. Because the reality is, if your carbs are too high or too low, you're going to have cravings and a lack of energy. Finding that really great spot in between is where you're able to make sure you're having a good amount of carbohydrates, keeping you satiated, and able to lose weight.
Prevent Food Cravings: Tip #3- Stop Cutting Fun Carbohydrates from your Diet
Now you're probably like, Heather, are you really telling me to not completely cut out pasta, pizza, all of that stuff when I'm trying to lose weight?! Yeah, I am because the reality is weight loss and weight maintenance don't actually look that different. If you're cutting out all of these foods that you actually love while you're trying to lose weight, then when you go into maintenance, it's going to be really hard for you to figure out how those foods in again.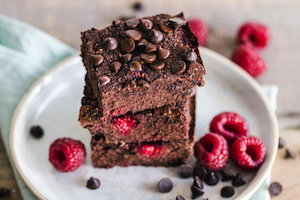 Just like if you were to tell a kid not to do something, they're going to want to do it 10 times more, right? We are not as mature as we think. In fact, we are really similar as adults. If I tell you never to eat a food, you're probably going to be thinking about it 10 times more. That's not what we want to be focusing on when trying to lose weight.
Don't focus on "what I cannot have" and have this "do not eat" list. Instead, focus on what you should have and it's going to make you feel good and support your goals.  Naturally you're going to eat less of those fun foods anyway. But I think the mentality of saying that I can never have something, or I can never have sugar for 60 days isn't a helpful mindset when it comes to weight loss.
Tip #4 – Find Purposeful Ways to Satisfy your Food Cravings
Now you might be asking yourself like, what the hell, Heather? You just told me to eat those fun foods if I want it. And yeah, if you're craving something like specific, let's just say it's a certain slice of pizza from your certain favorite pizzeria. Then that's when you know, it's a true craving for something specific and there's a way to fit that food in. But if you're just telling me I'm craving something sweet, there are so many more nutritious alternatives to satisfy a sweet craving that are going to be purposeful.
What I mean by purposeful is that it's actually going to keep you full, shut off your hunger hormones, and satisfy that food craving instead of perpetuating it to continue. For example, if I'm craving something sweet, maybe I'll make a chocolatey peanut butter smoothie that's delicious, sweet, satisfies that craving, but also has some protein, fat, and fiber in it. That's going to keep me full and shut off those carb cravings.
Tip #5 – Focus on Your Thoughts
This is so important and it's last, but absolutely not least. For example, something huge that really helped me was to stop telling myself I had a sweet tooth. Once I identified as that person, I put myself in that box. I really started naturally self-sabotaging because if I was, let's say, at a family party and someone brought pastries, even if I really didn't necessarily want it, I would tell myself I would because I have a sweet tooth. I can't not have it, because it's there. Or I could never just have a one bite of that piece of cake. I would have to have the entire thing because I can't control myself around sweets.
Well, guess what? If you're telling yourself that you can't control yourself around sweets and that you have a sweet tooth and you can't resist that, those mindset cravings, as I like to call them, won't go away because our thoughts completely dictate our actions.
Our thoughts affect our feelings, affect our actions, and affect our results.
So your thought is "I can't control myself around sweets because I have a sweet tooth." Your feeling is going to feel defeated and uneasy around those foods. Your action is going to be that you're probably going to overeat them, and your result is going to be that you're not losing weight.
If you can reframe that thought and catch yourself in that moment and say, okay, I don't have a sweet tooth. That's not even a real thing. I can control myself around sweets. I can control myself around all my food choices because my thoughts control everything and I can control my thoughts. So that is not me. That's not who I am. And I could be different from this moment forward.
Then your feeling is going to be empowered and more excited and curious, your action is going to be that you may be able to not indulge in the sweets or not overindulge in the sweets, and your results are that you're going to be able to lose weight finally. Don't underestimate how powerful your thoughts are. Your thoughts make up your reality. You're in control of your thoughts at the end of the day.
And let's say you do have a sweet craving, okay? It's not that big of a deal. It's a craving and it will pass. It will go away. It's just a feeling. So sometimes it could actually be helpful to sit in it and think, where is this coming from? Is this a craving? Am I bored, am I actually hungry? Do I really want this? Question it and sit in it and realize that it will pass just like any other feeling.
Join My Free Workshop and Learn How To Lose Weight Without The Cravings
If you're interested in learning more about this, how to live a low carb lifestyle, lose weight without being hungry or having cravings, then I created a free workshop and you get instant access to it. It walks you through my step-by-step system to lose weight, living a low carb lifestyle.