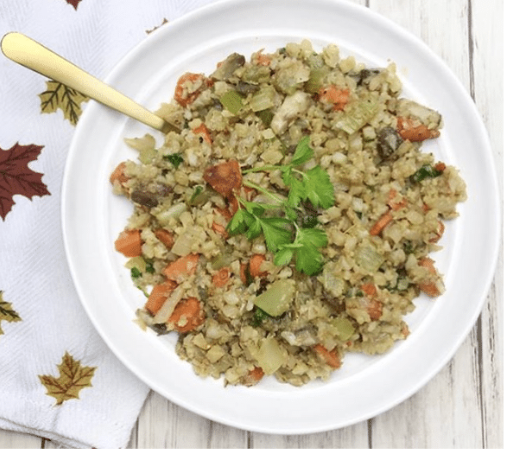 This cauliflower stuffing is the perfect low carb side dish to bring to thanksgiving dinner. It was such a hit last year I decided to add it to the blog and share it with you this year.
Ingredients:
Trader Joes chopped white onion, carrots and celery mix (or can make yourself but chopping 1/2 cup of each)
1 bag fresh cauliflower rice (10oz)
1 container mushrooms
1 Tbsp. grass fed butter or oil
1/4 cup bone broth (can also you vegetable or chicken broth)
Seasonings: salt, pepper, garlic powder, onion powder, thyme, parsley, and rosemary
Directions:
Step one: heat 1 tbsp. butter or oil into a pan on medium / high heat. Add chopped onion, carrots and celery into the pan and cook until soft for about 5 minutes.
Step two: Add cauliflower rice and chopped mushrooms into the pan and let cook for another 5 minutes.
Step three: Add seasonings to taste (I like 1-2 tbsp. of each parsley, thyme and rosemary) and bone broth to pan. Put on simmer and cover for about 10-15 minutes.