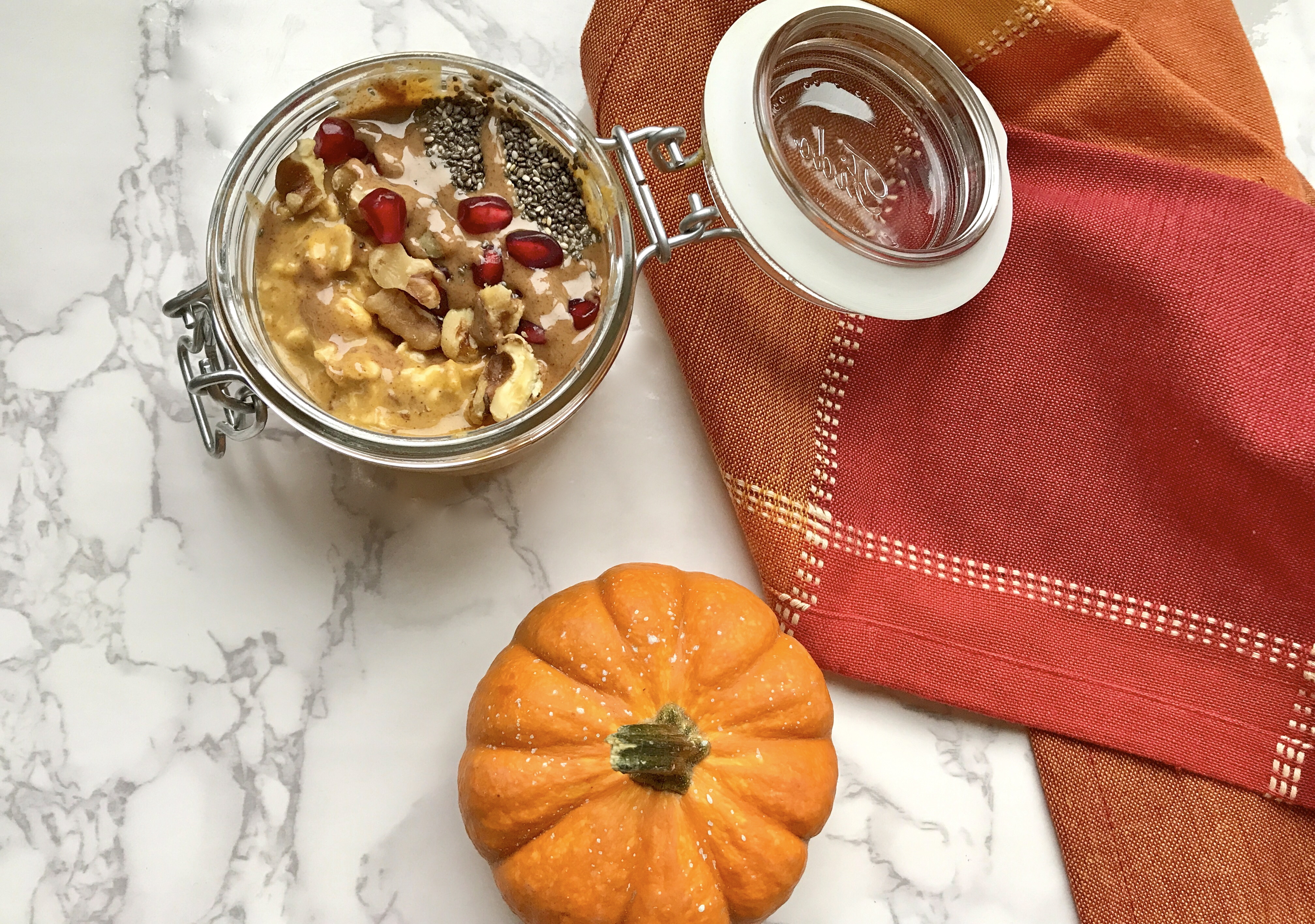 Pumpkin, spice, and everything nice… that's exactly what's in these overnight oats! These oats are cozy and delicious, perfect for the fall mornings. I love overnight oats since they are so easy to make and convenient for on the go. So if you like pumpkin and quick/easy recipes, your gonna wanna give this one a try!
Pumpkin is super popular in the fall, and for good a reason. Obviously, that's when it's in season and it's absolutely delicious, but beyond that it's pretty much a fall superfood. A pumpkins bright orange pigment means it's loaded with carotenoids, more specifically beta-carotene, which is a powerful antioxidant. This compound helps to protect against cancer, fight free radicals, and may reduce the risk of cardiovascular disease.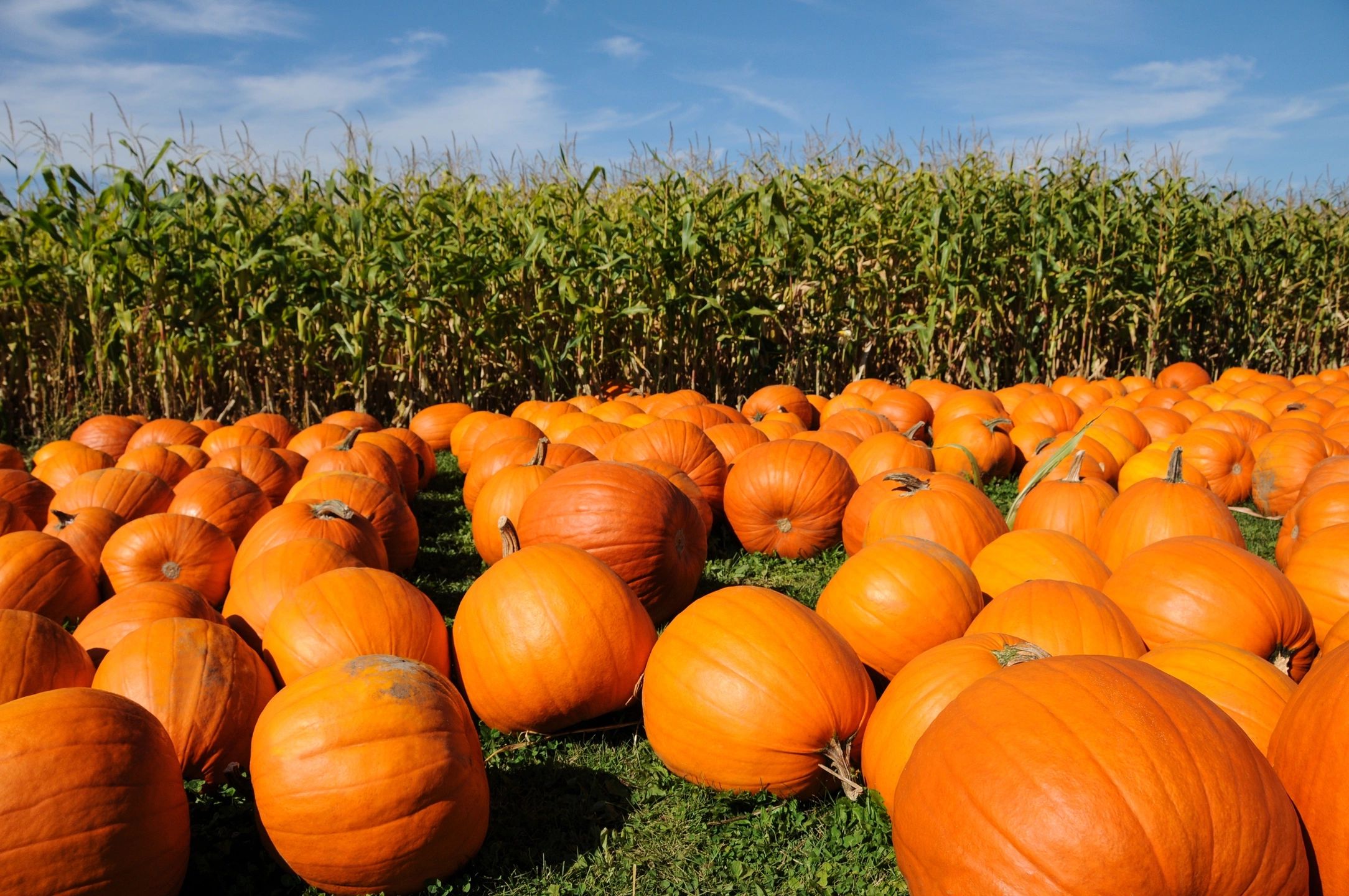 Beta-carotene is also a precursor to vitamin A, meaning if vitamin  A is needing in the body beta-carotene can be turned into vitamin A for use. But that won't be necessary if your eating pumpkin because a serving has well over 100% of our daily needs! That way we can leave this powerful antioxidant to be utilized for all the other benefits mentioned earlier. Vitamin E, riboflavin, copper, manganese, folate, B6, and thiamin are all nutrients you will get from pumpkin as well!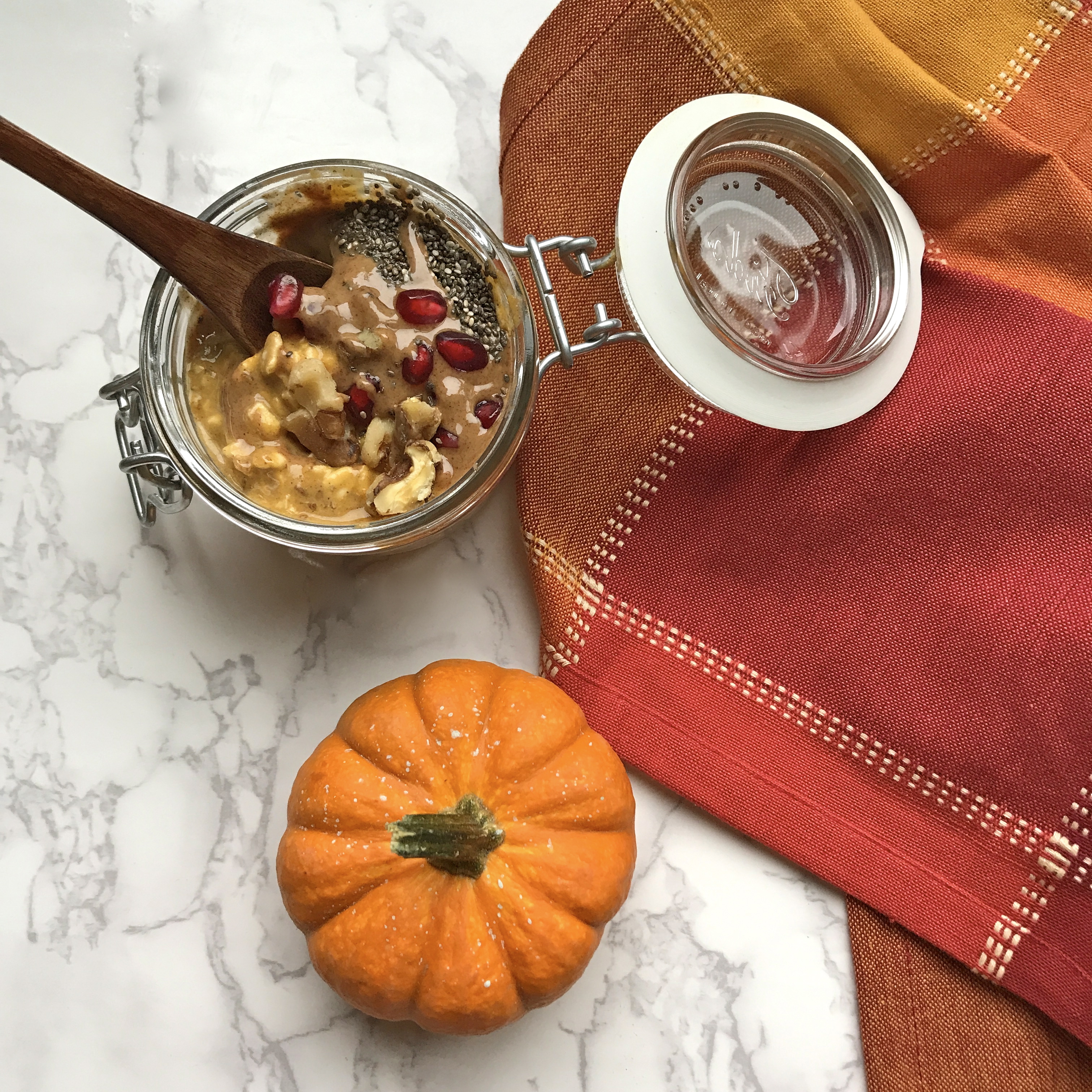 This recipe will be sure to satisfy a delicious fall treat weather you are on the go or relaxing with a cup of joe (or shall I say it, pumpkin spice latte). Hope you enjoy =]
Pumpkin Spice Overnight Oats
Author:
Prep time:
Total time:
Ingredients
1 scoop vanilla protein powder
Unsweetened almond milk
1/4 cup oats, uncooked
2 Tbsp. pure canned pumpkin
2 Tbsp. vanilla protein powder
1 tsp. pumpkin spice
1 tsp. vanilla extract
Toppings: Chia seeds, pomegranate seeds, walnuts, and drizzle of almond butter
Instructions
Place oats, pumpkin, protein powder, pumpkin spice, and vanilla extract in a container or jar.
Pour almond milk (about 1/2 cup) into jar until ingredients are covered. Stir well.
Leave in the fridge overnight. Remove from fridge in the morning. You can enjoy them warm or cold and top with your favorite toppings!
Notes
Vanilla protein powder adds sweetness. If you don't use this I would recommend adding sweetener of choice to taste like stevia, monk fruit, maple syrup or honey. [br][br]If you don't have pumpkin spice you can make your own blend by using cinnamon, ginger, nutmeg, allspice, mace, clove. Even just cinnamon and nutmeg would do the trick.