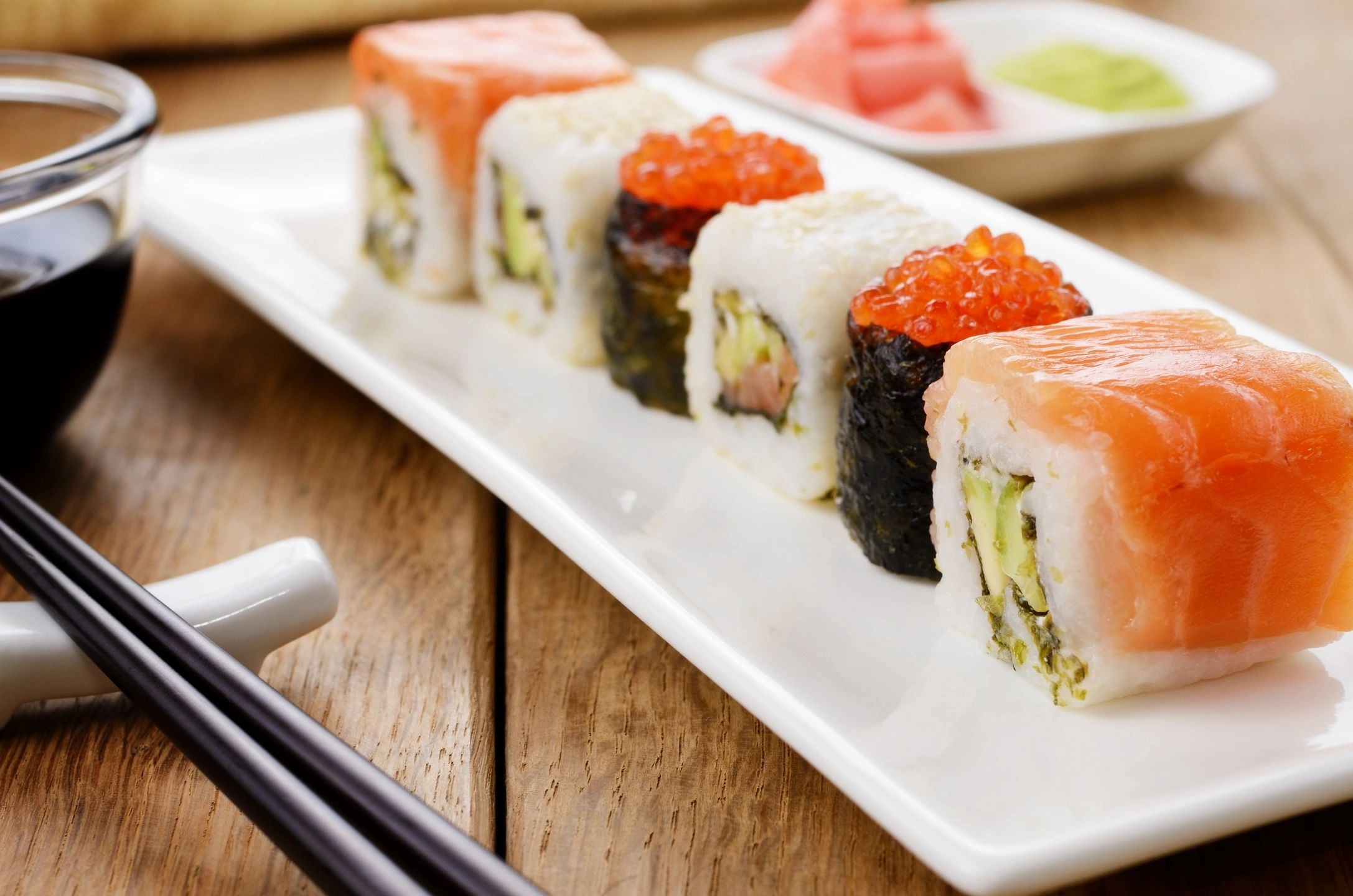 Low carb sushi can be a great takeout option to manage your weight! I absolutely love sushi and eat it all the time even on low carb! But did you know typically ONE regular sushi roll is equivalent to THREE slices of BREAD?!
I know, I know, crazy. Idk about you but I couldn't imagine eating that many slices of bread in one sitting. But for some reason in the form of sushi it seems easy to do! However, not to worry! There are so many great options you can get to choose from your local sushi place that lack the carb bomb but absolutely do not lack the flavor.
These options include solid protein source, fibrous veggies and healthy fats to keep you full and satiated after your meal. And then you can choose the carbohydrate choice that's worth it to you!
Here are a 6 ways to order from your favorite sushi restaurant but still keep it low carb.
Low Carb Sushi: Naruto rolls
Naruto rolls wrapped in cucumber. You can usually ask for any role like this; my personal favorites are salmon avocado and spicy tuna wrapped in cucumber. Not only is this a great options to have a carb free sushi roll but the cucumber around it gives the roll such a crisp texture and refreshing flavor. Pair this with spicy salmon and I am personally a happy camper!
Low Carb Sushi: No rice
Did you know you can ask for any roll with no rice and they will just wrap it in seaweed! I know, who woulda thought?! Honestly, the first time I got a roll with no rice I was so surprised on how I didn't miss it at all. I mean there really isn't much flavor in rice so again with my spicy mayo sauce it really was not missed! haha
Low Carb Sushi: Ask for your roll light on the rice
Sometimes I'm in the mood for rice on one of my rolls. So I'll ask if they can do it LIGHT on the rice and most places happily will! You can get any roll like this and they'll just use a little less rice so you are just not having as much. And if your sushi spot wont do this for you, you can also just brush some of the rice off yourself. I personally stick to one roll like this and then get the other ones wrapped in cucumber or ask for no rice at all.
Boost up the protein
Sushi does have great portion sources like fish and shrimp in it; however, boosting up the protein of your meal is always good for curbing carb cravings and staying full. Adding an order of edamame or sashimi to your meal are great ways to boost up the protein intake. Having protein at meals helps to boost that metabolism and decrease cravings for carbs!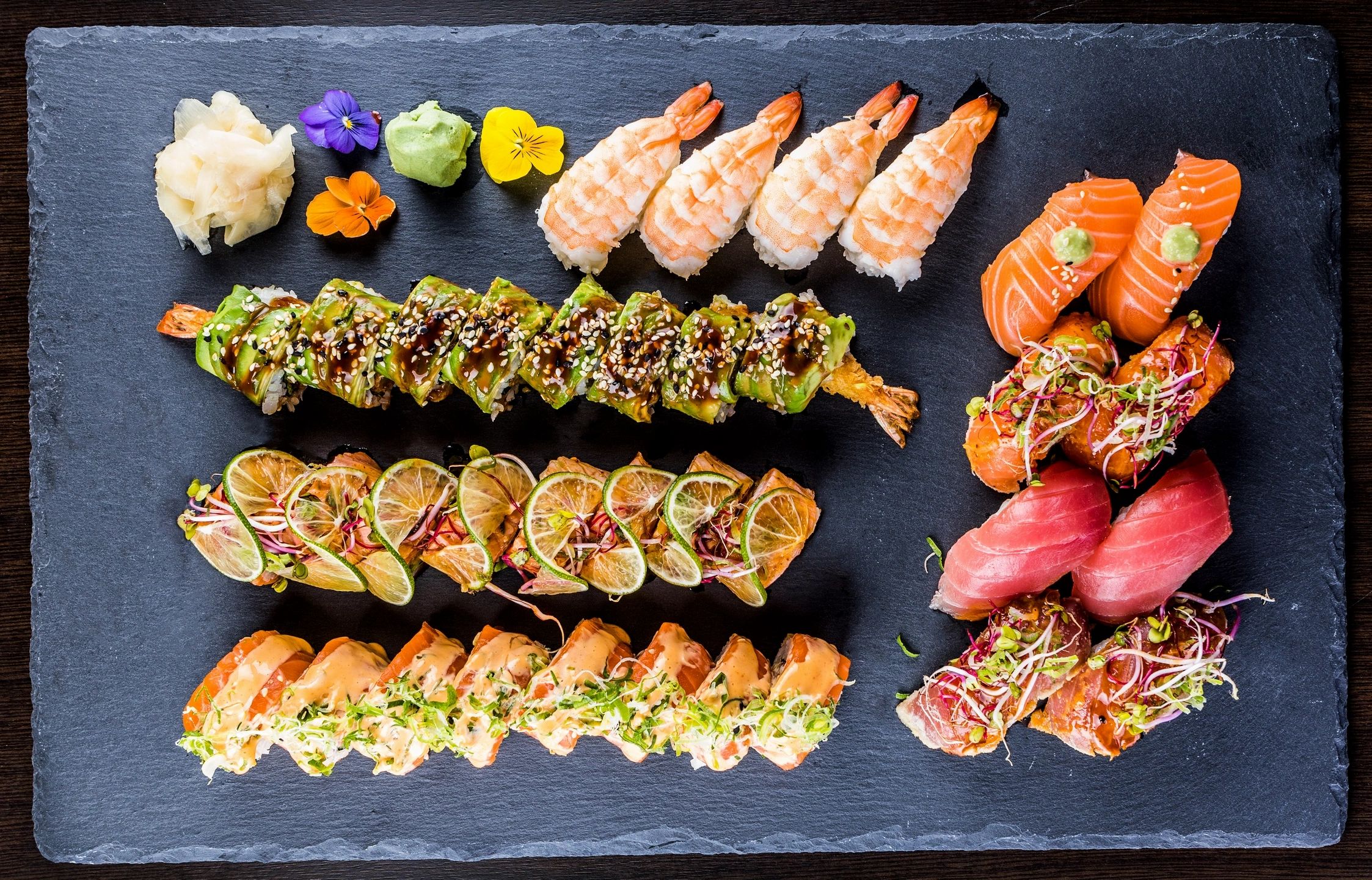 Volumize the veggies
When eating sushi for lunch or dinner I highly recommend to make these meals veggie focused. I personally always pair any of the rolls I mentioned above with extra veggies on the side like a side salad or sautéed veggies to fill me up more.  Even if you don't want to buy veggies for takeout I love to make my own veggies at home by popping some frozen cauliflower rice or broccoli in the microwave. Then I just order a side of my favorite sauces to put on the veggies. My favorite are garlic sauce, soy sauce and spicy mayo- obvs! lol
Other options
Most sushi places have other dishes like chicken with veggies or that you can get also!Sometimes I'll get one sushi roll and split a dinner combo with a friend. This lets me have the best of both worlds and still keep it low carb.
CLICK HERE to download this PDF I made for you so that next time you grab sushi all these tips are in your back pocket!
In my monthly membership program The Society, I walk you through how to order for takeout or dining out from many different cuisines so you always feel confident with your food choices. Remember, when your blood sugar is in control, you feel in control!
I hope you try these tips next time you have sushi! That way you can enjoy all the delicious flavors while sticking to your low carb lifestyle.
P.S. Don't forget to check out The Society HERE if you're ready to lose weight and start feeling confident with your food choices again.