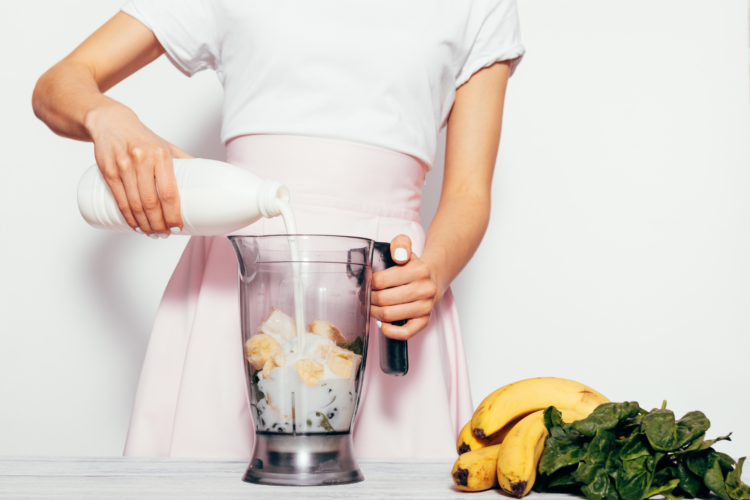 Do your "fat burning smoothie" leave you starving an hour later?
People tell me all the time that the "healthy" smoothie they try leave them starving with cravings an hour or two later. This causes them to overeat the rest of the day making it feel impossible to lose weight.
This is just one of the many reasons I wrote my new book Protein Power Smoothies to teach people how to build smoothies that optimize metabolism and manage cravings making weight loss way easier. Along with 75+ unique and delicious recipes to get started!
I want to share with you my fat burning smoothie recipe that can help you lose weight, decrease cravings and stay full for at least 4 hours. That way next time you make a smoothie at home or order from your local smoothie shop you know exactly what to order!
Why is this a fat burning smoothie
Let me start off by saying no one food or meal will make you gain or lose weight. However, there are ways you can build your meals (or smoothies) to more efficiently tap back into fat burning. And that is exactly what this smoothie will help you do!
Most smoothies you see online or at a smoothie shop are loaded with tons of sugar from juices and fruit. So basically they are ALL carbs. They add a banana here, a few dates there and then blend it up with some sweetened almond milk. They might as well be giving out ice cream, tbh!
Here's why this is no bueno for weight loss. When we have a smoothie with basically only carbohydrates and that's high sugar it spikes our blood sugar pretty high, pretty quick. This leaves us with a blood sugar crash 90 minutes later that causes us to feel hungry and crave more carbs.
That spike in blood sugar also causes an overproduction of the hormone insulin; a hormone that shuts down fat burning. So we are unable to tap into fat burning for a while after drinking a smoothie like this.
So my smoothie recipe is designed to decrease the production of insulin letting us tap into fat burning mode more efficiently.
Make sense?
Ok cool. So let's now get into how to make it.
What to put in a fat burning smoothie
Protein
Protein in essential when it comes to weight loss for so many reasons. Yet, this is typically the thing I find missing in most fat burning smoothies. It helps to keep you full, decrease cravings for carbohydrates and maintain lean muscle mass to keep your metabolism up.
When it comes to making a smoothie the first thing you want to think about is how to add protein. I am a huge fan of protein powders for smoothies since they are a great way to bump up the protein while adding some flavor.
However, not all protein powders are created equal. A lot of them are loaded with added or artificial sugars, which we do not want in there.
Some of my favorite protein powders that I use myself and recommend to clients are…
Healthy Fats
Fat is your friends ladies. Healthy fats helps to keep us full, absorb fat soluble vitamins (A,D,E &K) and eating fat can actually help you burn fat.
Some fats you can add to your smoothie are…
Nut or seed butters
Avocado
Coconut oil or cream
Olive oil (sound weird but it's actually really good in some smoothies)
Fiber
You're definitely going to want to make your smoothie fiber packed for so many health reasons but especially for weight loss. When we eat lots of fiber it physically stretches our stomach telling our brain we are full. Not to mention fiber helps to regulate digestion, which may not necessarily burn fat but it does make us feel less bloated and more energized.
Some ways to add fiber to your smoothie are…
Any non starch veggies such as

My favorite is frozen cauliflower rice – seriously don't knock it till you try it. It makes smoothies so creamy and cold and you seriously do not taste it!
spinach
baby kale
cucumber
celery

Fiber powders
Optional Fruit
This is where I see things take a turn for a worst with a lot of "fat burning loss smoothies." Now I am by no means saying that fruit is bad for you and you should not eat it to lose weight. That is absolutely false and fruit can be a great food to incorporate into your diet to lose weight and be healthy.
However, too much of a good thing isn't necessarily good. The thing with fruit is at the end of the day it is sugar. Although it's from a healthy source of sugar being mindful of how much you are having is key for building a fat burning smoothie. So keeping fruit to a portion size (about 1/2 a cup) can be helpful to optimize fat burning so you can lose weight more efficiently. Sometimes I even skip the fruit all together and I still enjoy my smoothie just as much.
My client used this fat burning smoothie recipe to lose her last 9 pounds
One of my clients came to me frustrated that she was eating a healthy diet but not seeing the scale drop AT ALL. In fact, she was kind of seeing it go up a little bit once she started eating healthy. Of course she was so confused on how that could possibly happen.
She always stops at her local smoothie shop to grab a smoothie for breakfast. We came up with some ways we can adjust the smoothie she was getting at her local smoothie shop to help her lose weight. She also started making smoothies at home more often so she can really tailor them to fit her needs better.
With this simple switch, she felt so much more satisfied after her smoothie. This helped her not need that mid morning snack she always felt tied to before! We also made sure the rest of her meals were balanced following my meal formula. With these changes she was able to lose the 9 pounds she wanted to lose and has maintained it ever since.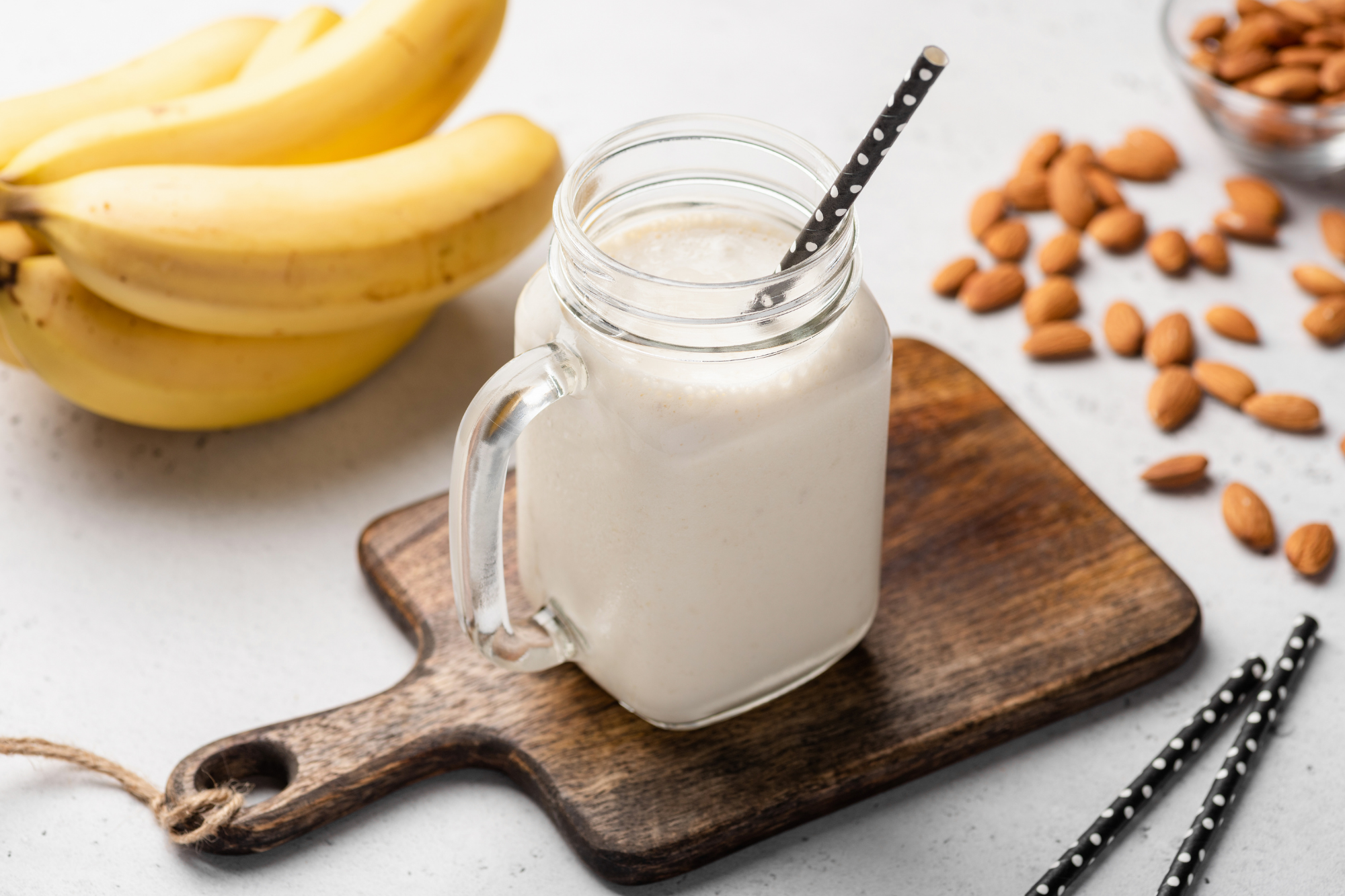 Recipe For The Best Fat Burning Smoothie
1 scoop of Vanilla or Chocolate Protein
1-2 cups Unsweetened Almond Milk
1 Tbsp. Chia Seeds
1 Tbsp. Nut Butter
1/2 cup Frozen Cauliflower Rice
Optional: 1/2 Banana or 1/2 cup berries
If you want to learn more about the science being low carb, high protein smoothies to lose weight, optimize your metabolism and stay full for hours, you can now pre-order my new book Protein Power Smoothies HERE! Not only will you learn the science behind a low carb, high protein lifestyle but you will also get access to my complete smoothie formula as well at 75 tasty recipes!