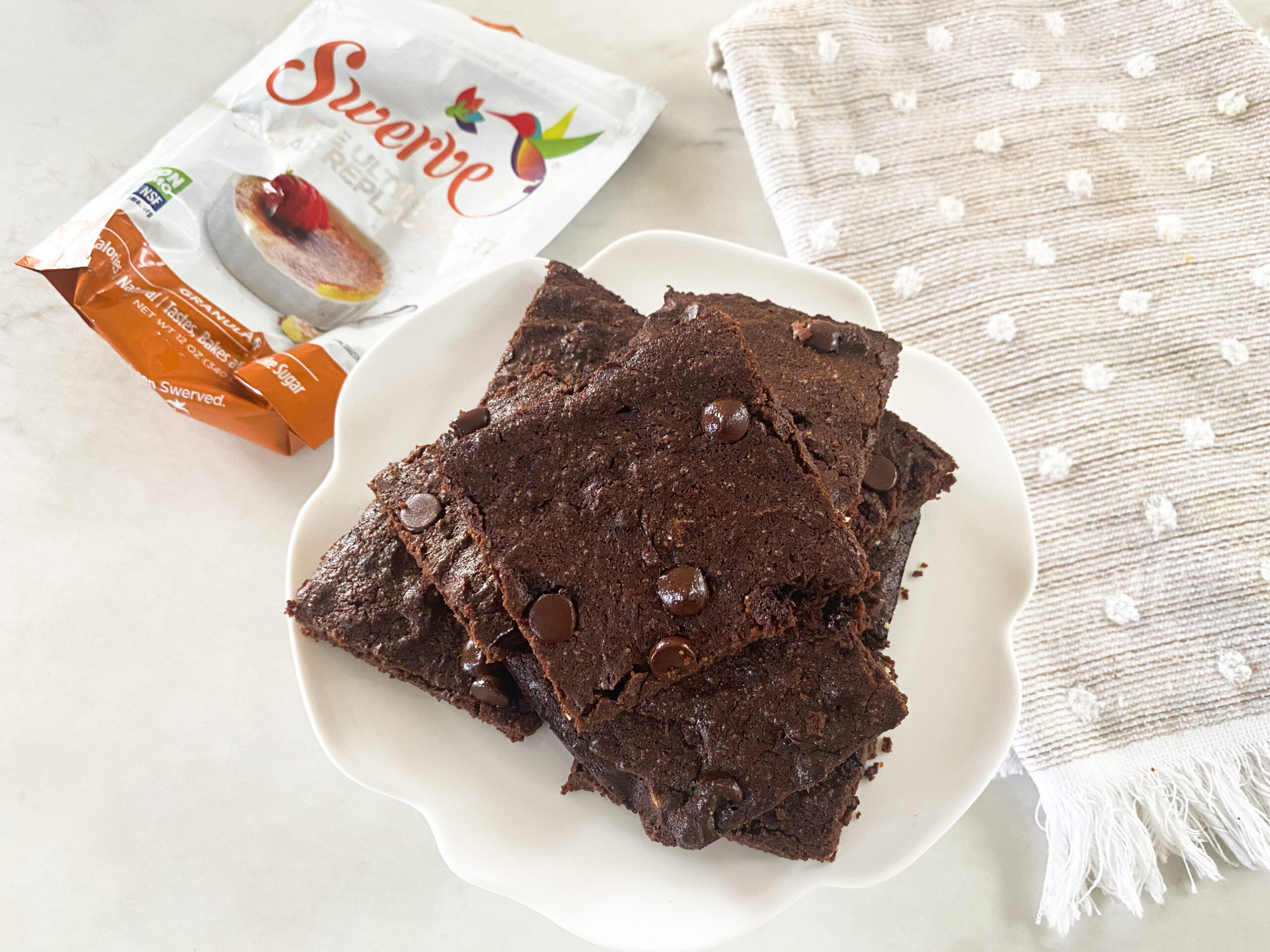 These decadent low carb brownies are so yummy that you will not be missing the carbs!
 Idk about you babes but I LOVE baking. And delicious and decadent chocolate chip brownies happen to be one of my favorite things to whip up 🙂 
But I don't particularly love the sugar spike and crash that comes along with high carb desserts. 
 Did you know most brownies have around 252 grams of carbs and 171 grams of sugar per batch? That's about 28 grams of carbs and 19 grams of sugar per brownie… and let's be real, most of us aren't having just one.
 Here's the deal… When we eat foods high in carbs and sugar it causes our blood sugar to spike. And what goes up must come down so our blood sugar winds up crashing around 90 minutes later. When we crash, we crave and we're looking for another brownie or maybe some salty potato chips to pick us back up.
This blood sugar roller coaster makes it really difficult to make the food choices we want to help us maintain or lose weight. Not to mention it can also make us feel lethargic or like we wanna take a nap (sleep emoji), which is maybe fine for your toddler who has a scheduled nap time but it's not so ideal for us busy ladies who have things to do. 
So I like to make a few small tweaks to create desserts that are low carb and sugar free without compromising in taste. That way I can still enjoy a delicious treat while keeping my energy levels steady and cravings satisfied (instead of triggered!) When you're feeling energized and not having crazy cravings throughout the day, it's so much easier to make better choices later on, which makes losing weight much more enjoyable!
How to make your low carb brownies low carb!
One of my favorite ways to make desserts low carb is to use an almond flour instead of regular flour since it is low in carbs and high in protein, fat and fiber. This helps to balance blood sugar and shut off hunger hormones, which will keep you much more satisfied.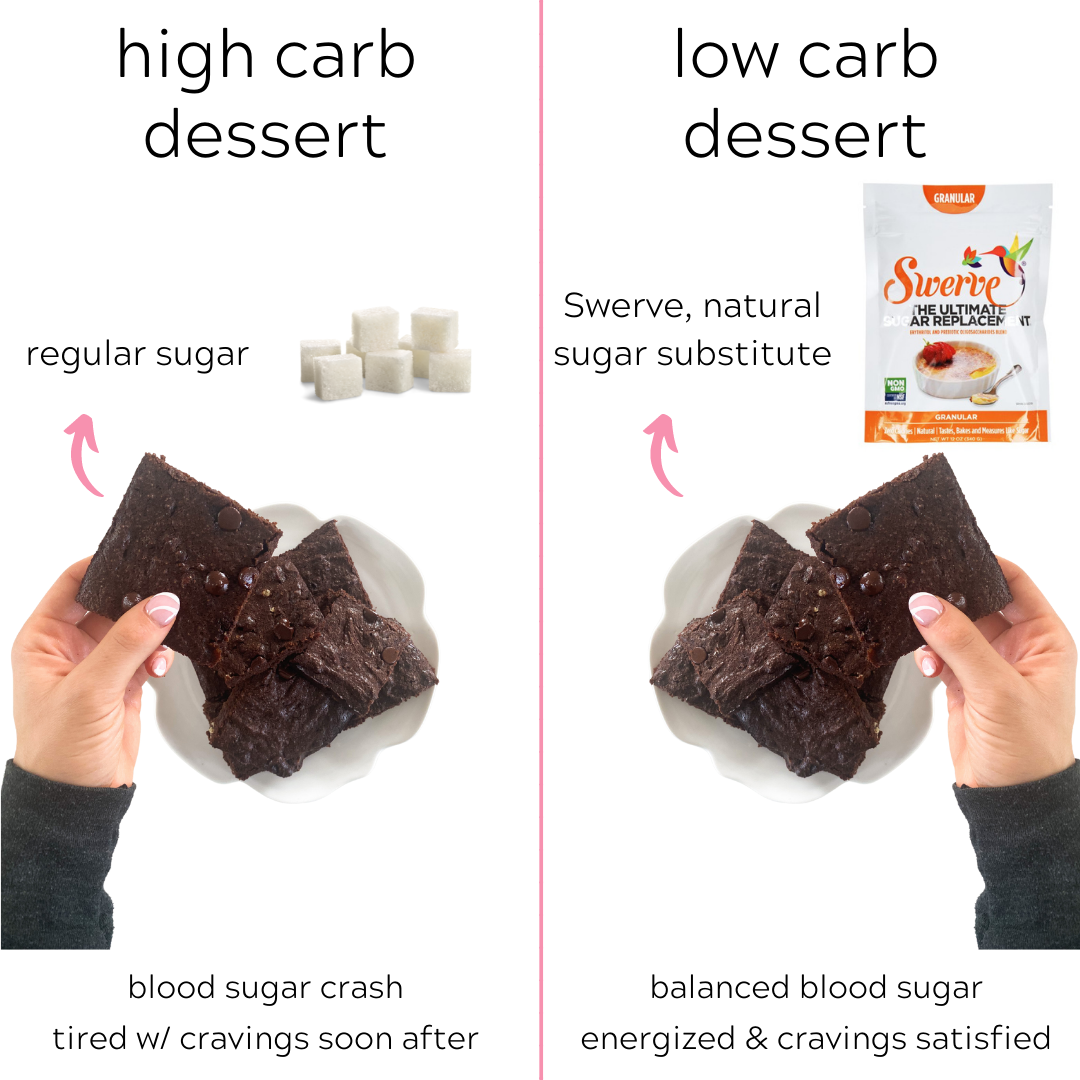 My next tip is to use a natural sugar substitute like Swerve Granular instead of regular sugar to keep it sugar free! Swerve measures cup-for-cup like sugar, so it's an easy swap for any recipe.This cuts the batch of brownies down from over 171 grams of added sugar per batch and 19 grams per brownie to virtually none without sacrificing any of the flavor!
Or if you don't feel like making low carb brownies completely from scratch, Swerve also has a grain and gluten free, carb conscious brownie mix you can use instead! I actually just made these for some friends recently and they couldn't believe they were sugar free. Everyone loved them!
Recipe for my decadent low carb brownies:  
Ingredients for low carb brownies:
1 cup almond flour 
⅓ cup cacao powder
½ cup coconut oil or butter, melted
¾ cup Swerve Granular 
2 eggs
2 tsp. vanilla extract
Pinch of sea salt
½ cup sugar free chocolate chips
Directions:
Step 1. Preheat oven to 350 F.
Step 2. Combine all ingredients together.
Step 3. Place in the oven and bake for 22 minutes.
Step 4. Remove from the oven and let cook for at least 15 minutes before cutting. Enjoy!
Hope you enjoy these decadent low carb brownies as much as I do! Make sure to tag me if you make them 🙂
This post was sponsored by Swerve.