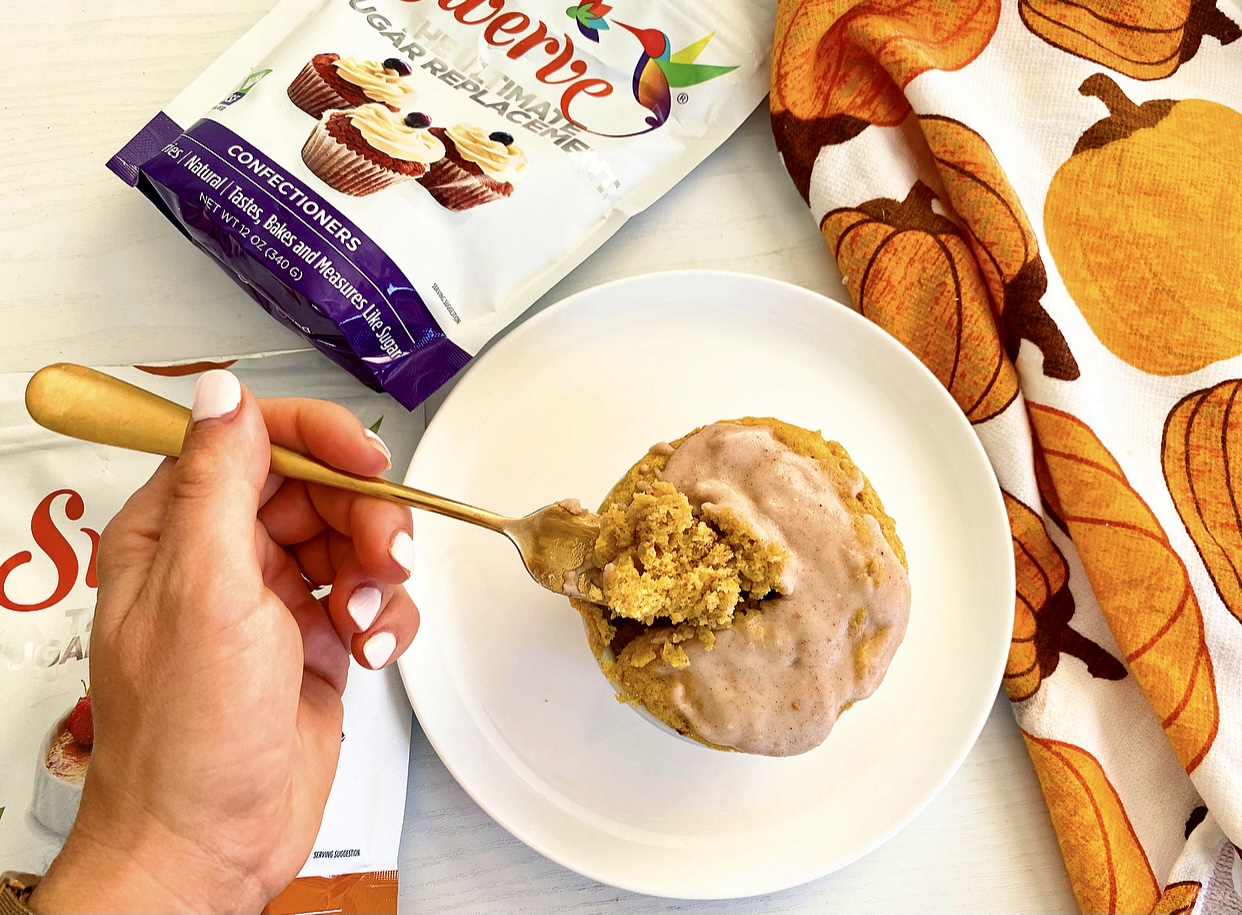 This 5 minute low carb pumpkin mug cake is everything you could want for a delicious fall treat. It's Keto and low carb friendly, gluten free and only takes a few minutes to whip up. Plus, it's also a single serving so perfect for portion control if you're trying to lose weight 🙂 
But seriously, let's get real. Sometimes our sweet tooth strikes out of nowhere and you want something delicious to satisfy your craving, like NOW. But you also want to stay on track with your weight loss and wellness goals. And ideally without having to go to the store to get a list of ingredients you're never going to use again to make a recipe that takes an hour to make. 
Low Carb Mug Cakes For An Easy Weight Loss Dessert
I LOVE recommending low carb mug cakes to my weight loss clients if they're craving a yummy dessert! And honestly, what's better than a low carb pumpkin mug cake in the fall? hehe
Mug cakes are easy, practical and very simple to make… I promise you with a little push to reach the microwave my 2 year old god child could do it. I will say though I personally find keeping products like Swerve on hand is great for these situations. That way I can easily whip up a sweet treat to satisfy any cravings without sacrificing flavor literally anytime I want. And I don't have to deal with the dreadful sugar crash that triggers more cravings after having a traditional higher sugar dessert. It's one thing to satisfy a craving with a delicious low carb treat when trying to lose weight, but there's nothing worse than when those cravings keep continuing. You can still eat delicious desserts, stay on your low carb plan and lose weight when using a natural sugar substitute. It's a win, win, win!
Not to mention a natural sugar substitute like Swerve can be also great to keep in your kitchen because you can use it for coffee, tea or anything else you would use sugar for. Cutting back on added sugars is one of the best things you can do for your health and weight loss so finding an alternative can make all the difference on your journey. Swerve in particular also has cake mixes, cookies, brownies and pancakes if you are looking for a lower carb version of your favorite goodies. Especially with the holiday season around the corner!
How to make my low carb pumpkin mug cake in 5 minutes: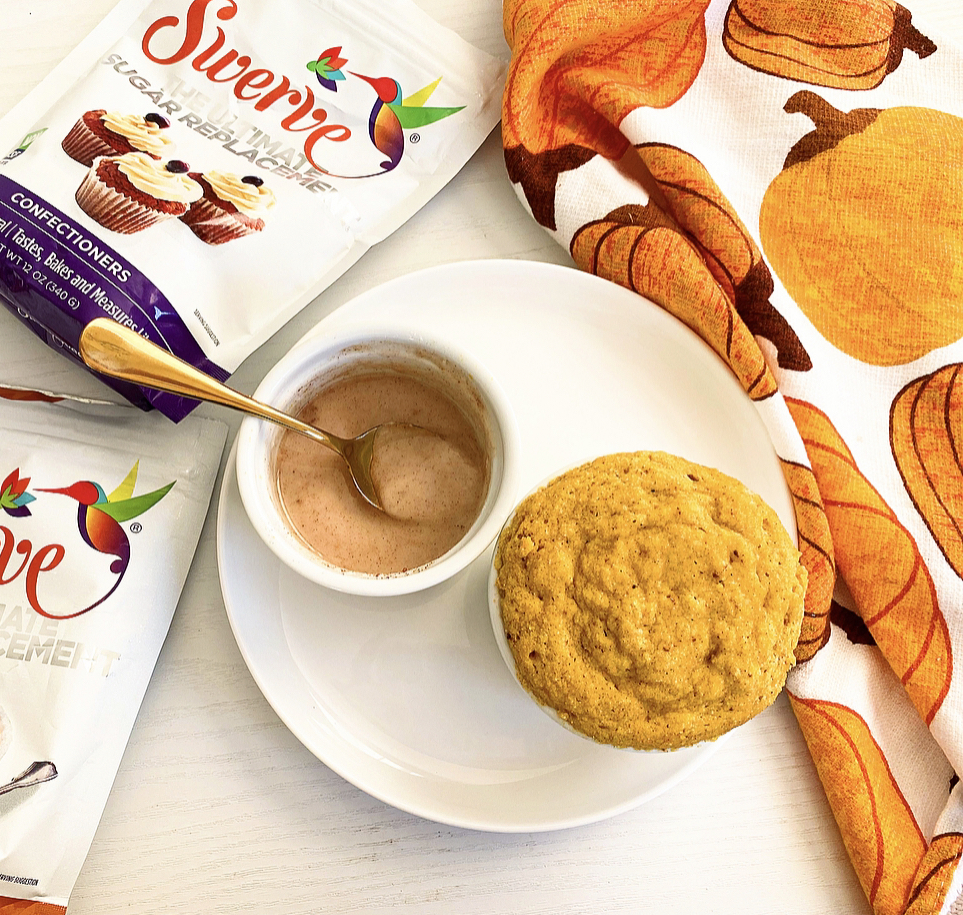 Low Carb Pumpkin Mug Cake Ingredients: 
2 Tbsp. Swerve granulated sugar
2 Tbsp. pumpkin puree
1 1/2 Tbsp. coconut flour
1 egg
2 tsp. melted butter
3/4 tsp. pumpkin pie spice
1/2 tsp. baking powder
Pumpkin Icing Ingredients: 
1 heaping Tbsp. Swerve confectioners sugar
1 Tbsp. water
Few dashes of pumpkin pie spice
Directions: 
Step 1. In a microwave safe mug or ramekin, melt butter in microwave for 20 seconds. Then add your Swerve sweetener, pumpkin puree, coconut flour, egg, pumpkin pie spice and baking powder into your mug and mix well.
Step 2. Place in microwave for 90 seconds.
Step 3. While mug cake is in the microwave, add icing ingredients together in a small bowl and mix well. You can add a little more or less water depending on the thickness you like your icing.
Step 4. Remove mug cake from the microwave and let cool for a few minutes. Be careful when taking out of the microwave because mug will be HOT. Top with pumpkin icing and enjoy!
This post was sponsored by Swerve.